Arsenal's Mesut Ozil has said he laughs off criticism of his style of play.
Ozil produced a man-of-the-match performance on Monday as Arsenal beat Leicester 3-1 to record their 10th win in a row in all competitions.
'We're not letting you in', Trump warns migrants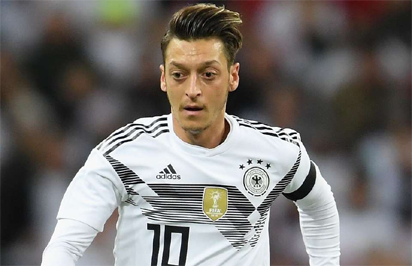 Sky Sports pundit Graeme Souness said afterwards that Ozil "polarises opinion", and in the past he has been criticised for his languid approach, which has seen him brandished as lazy and lacking fight.
Bafana v Eagles: It's revenge time — Ighalo
However, ahead of Arsenal's Super Sunday clash with Crystal Palace, Ozil told Sky Sports: "I just laugh.
"I am not the youngest anymore but I started playing professionally at the age of 16 or 17 and it's always been up and down with me – people either like me or they don't.
"I don't listen to these people – I just listen to my coach and my people who say things straight to my face. So of course, if I play bad, I know that just as I know when I play well''
Source: https://www.vanguardngr.com/2018/10/ozil-i-laugh-at-my-critics/