•Good riddance to bad rubbish – Erue dubs defectors
By Emma Amaize,Regional Editor
FROM his mien, it seemed Delta State Governor, Senator Ifeanyi Okowa, had been looking for a suitable opportunity to scoff at  the All Progressives Congress, APC, in the state since the rival party, early this month,   nominated successive governorship contender, Chief Great Ogboru, as its gubernatorial standard bearer for the 2019 general elections.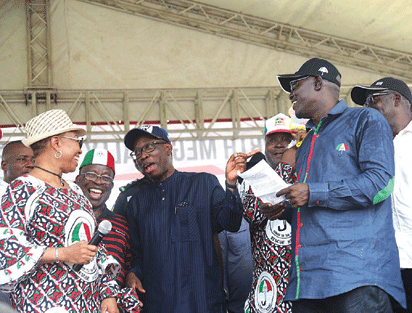 The much-sought occasion came for the governor, who is his party's candidate,   Tuesday, when the PDP in Delta North senatorial district held what it called a mega rally at Kwale, Ndokwa West local government area. At the rally, APC chieftains, led by Chief V O T Abanum, running mate to the party's 2015 governorship candidate, former member, House of Representatives, Hon Mercy Almona-Isei, factional leader of APC in Delta North, Hon Henry Onianwa, Chief Gabriel Mordi and Chief Emma Ogude allegedly led thousands of supporters to defect to PDP.
Who do you want to deceive?
Apparently poking fun at the APC gubernatorial candidate whose name he did not mention,   Okowa said: "We are praying for debate, they will have nothing to talk about, I am in Delta State, I only left when I went to Ibadan to study Medicine, my opponents will have nothing to say, so they will run away from debate."
We're winning battle against Okorocha — Allied Forces
"We cannot deceive ourselves, when you contest election today and after three years and half, a month to election, you are back to Delta State to ask for votes, who do you want to deceive? He said.
Political homily
Not done, he switched over to the national congress of APC, which the Coalition of former APC Presidential Aspirants was challenging, saying: "Even their congresses, they are deceiving themselves, the PDP had a free and fair primary elections."
He sermonized, "In Port Harcourt, 12 persons contested in the presidential primary election, one person emerged and no one left after the primaries because, we live in love and we believe in God; when you have God, you are not afraid, we are on a solid rock but, those who could not conduct elections are on sinking sand; no matter what they do, we are not afraid."
Ex-gov. Sylva denies dumping APC for PDP
Mockery
Boasting of PDP's strength and the disunity rocking APC, which has splintered the party in the state,     he asserted: "We will win in all the places, even when they conduct the elections severally, we will win, they are in disarray, campaign is yet to commence and they have several cases in different courts, that is not how an organized political party should be."
He told the decampees:   "I must thank all of you for coming to this rally; I must thank all our brothers and sisters who are returning to our party, you are welcome back home."
Mordi tears APC membership card
His deputy, Barr Kingsley Otuaro, chairman of the PDP in the state, Barr Kingsley Esiso, former Minister of Information, Prof. Sam Oyovbaire, Hon. Solomon Funkekeme and other PDP leaders in their separate goodwill message stated that the PDP would get 100 per cent votes in the state.
Speaking on their defection to PDP, Hon. Gabriel Mordi, who publicly tore his APC membership card, said the achievements of Governor Okowa were   what attracted members of the opposition political parties to the PDP.
Coordinator of Atikulated Agenda 2019, Chief Greg Onah and PDP chieftain, Dr. Tabs Ogaranya-Tabowe described the success of the rally as good signal that Governor Okowa had endeared himself to Deltans through his people-oriented projects.
APC sinking ship
Publicity secretary of PDP in the state, Dr. Ifeanyi Osuoza, in a statement, commending the people of Anioma for the "massively successive mega rally" in Kwale, said: "The Delta PDP also heartily welcomes into our family, the avalanche of defectors,   who crossed over from other political platforms into the warm and comforting embrace of the PDP, having realized that there is no hope or redemption in the sinking ship of APC in particular, which is gradually tearing itself to fragments not just in Delta State but all over the country, just like the clueless and inept administration of its leadership at the Federal and all other levels."
The party expressed gratitude to  Senator Patrick Osakwe, Chief Godswill Obielum, Admiral Mike Onah, Omordi George Ugbomah, Hon Mercy Almona-Isei and other leaders in Ndokwa axis for their unshakable support for Okowa.
APC reacts, says Onianwa, co-travelers inconsequential
But, APC in Delta led by Prophet Jones Erue, some hours after the rally, discredited reports that its members defected to the ruling party.
Publicity secretary, Barr Ogheneluemu Imonina, in a statement, said:  "Today, being the 23rd of October, 2018, an infinitesimal group of people, led by one Mr. Henry Onianwa, a Delta North chairman of Mainstream Delta APC (MDA), a proscribed pressure group in APC Delta State, formed by Chief Otega Emerhor, an expelled member of the party, defected to PDP at Kwale."
"For the avoidance of doubt, Mr. Henry Onianwa was never the chairman of APC in Delta North. The legally recognized chairman of APC in Delta North is Chief George Okafor. From available information to the party, Mr. Henry Onianwa and his co-travelers, who defected to PDP today, did so without committed members of the party defecting with them.
"In fact, the few persons who left were not adding values to the party and APC in Delta state sees their defection as good riddance to bad rubbish
"To all genuine APC members in Delta state, be rest assured that the SWC, led by the chairman of the party, Prophet Jones Ode Erue, is genuinely working towards assuaging the feelings of anybody or group of persons within the party who could have been offended one way or the other.
"Therefore, party members should exercise some patience, as the ongoing reconciliation moves would meet the desire of the majority of party faithful,"he added.
Source: https://www.vanguardngr.com/2018/10/okowa-jeers-at-apc/