A helicopter belonging to Thai tycoon Vichai Srivaddhanaprabha crashed on Saturday near the stadium of his UK football club Leicester City.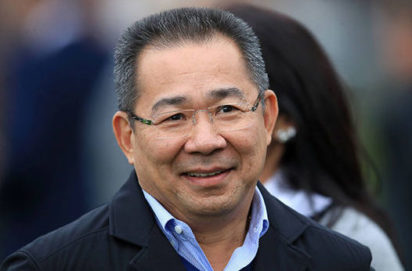 The helicopter was seen enveloped in flames in mobile phone images shot at the scene and an AFP photographer at the scene saw smoke coming from the wreckage.
The helicopter crashed after Saturday's game against West Ham in the Premier League club's car park close to its King Power Stadium — the scene of jubilation two years ago when underdog Leicester City won the Premier League in a remarkable footballing feat.
Police said: "We are dealing with an incident in the vicinity of the King Power Stadium. Emergency services are aware and dealing."
Thai businessman Srivaddhanaprabha, who has poured millions into the club, often leaves the stadium in his helicopter, which takes off from the pitch, when he attends a Leicester home game.
The identities of the pilot and any passengers on board have not yet been confirmed. It is also not yet known if anyone on the ground was injured.
"We are assisting Leicestershire Police and the emergency services in dealing with a major incident at King Power Stadium," the club said in a statement.
Srivaddhanaprabha, who owns the King Power company, bought the club in 2010 and became chairman the following February.
Leicester City footballers Jamie Vardy and Harry Maguire both tweeted praying hands emojis.
A witness told Sky News: "I hope they're okay. Doesn't seem like they have had much of a chance. Just burst into flames."
Jonathan Ashworth, Labour MP for Leicester South, tweeted: "Awful horrific scenes at @LCFC with the helicopter crash. I've been in touch with our emergency services and thanked them for responding so quickly. Our hopes and prayers for all those caught up in this desperately awful incident."
The local ambulance service said it was alerted at 2138 GMT.
"We sent a doctor, two paramedics in ambulance cars, a crewed ambulance and our Hazardous Area Response Team, with the first resource arriving within two minutes of the call," it tweeted.
Sky Sports said the helicopter took off from the pitch between 8.30pm-8.45pm local time (1930-1945 GMT) but developed problems shortly afterwards with its tail rotor.
It was under the ownership of Srivaddhanaprabha that Leicester created one of the biggest shocks in English football history by winning the 2015/16 Premier League, having started the season as 5,000/1 outsiders for the title.
West Ham defender Pablo Zabaleta, who played in Saturday's game, tweeted: "My thoughts and prayers are with all those involved in the helicopter accident at Leicester City."
His teammate Declan Rice tweeted: "Horrendous scenes at the king power tonight, my prayers & thoughts go out to everyone involved at Leicester"
AFP
Source: https://www.vanguardngr.com/2018/10/helicopter-owned-by-leicester-citys-thai-chairman-crashes/