as Ortom orders payment of salaries from fund
By Peter Duru, makurdi
Following the return of the Paris Club refund to Benue State Government account by the Federal Government, the State Acting Governor, Mr. Benson Abounu has directed the Ministry of Finance to commence payment of two months arrears of salaries, pensions and gratuities on Monday.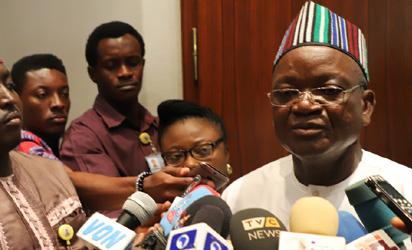 According to a statement issued in Makurdi by the Chief Press Secretary, CPS, to the Governor, Terver Akase, the decision was taken after due consultations with Governor Samuel Ortom.
The statement read, "the acting Governor has given assurance that October salaries will also be paid a few days after payment of the two months arrears, to enable workers of the state to enjoy three months wages within one week.
"The Government assures workers that as it has commenced the payment of the arrears of salaries, pensions and gratuities, it will continue to source funds to pay till the backlog of wages is cleared.
"The Benue State Government also appreciates the undestanding and cooperation of workers and retirees of the state." the statement added.
Nigeria Airways: FG to commence N22.6bn staff entitlement from Monday
Source: https://www.vanguardngr.com/2018/10/fg-returns-benues-share-of-paris-club-refunds/