…to remove illegal structures in school premises
The Edo State Government has shut the operations of all illegal sawmills on the premises of the Government Science and Technical College (GSTC), formerly Benin Technical College, in Ugbowo axis of Benin City, noting that their operations contravene the law.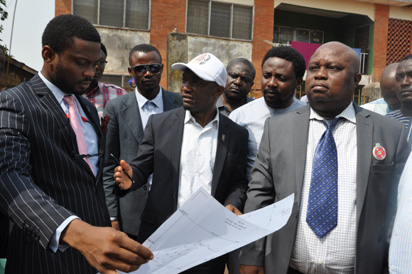 Senior Special Assistant to the Governor Godwin Obaseki on Security and Surveillance, Comrade Emmanuel Orukpe, who led a team of government officials to effect the closure, said that the Obaseki-led administration is keen on repositioning the college for top-of-the-range technical and vocational training and would not tolerate the activities of land grabbers in the premises.
According to him, "We have shut all the sawmills on the premises and have reported their illegal operations to the appropriate government agencies. Evidently, their operations are illegal because the area is earmarked for the Government Science and Technical College (GSTC), which is being revamped to offer competitive vocational training in Edo State.
VON DG Okechukwu accuses Oshiomhole of bastardizing primaries with tribal army
"This exercise is to serve as a warning to others operating in different parts of the state, who do not have the requisite authorisation and permits. They are encouraged to desist from such act and evacuate their illegal structures from the premises. We are only asking people to do the right thing and not encroach on government property."
He called on communities hosting schools to take responsibility for overseeing the schools, as it forms a critical part of their asset, noting "People are encouraged to take ownership of school premises, and see it as a community property which no one should abuse. Anyone seen desecrating school property or premises should be reported to the appropriate quarters, such as the Police or the ministry of education."
The Edo State Government has come hard on businessmen operating illegally and posing threat to public safety in the last couple of months, in a bid to enforce the rule of law and improve public safety.
Source: https://www.vanguardngr.com/2018/10/edo-govt-shuts-illegal-sawmills-encroaching-on-benin-technical-college-premises/