The Edo State Governor, Mr. Godwin Obaseki, has said that the state government is committed to rolling back the effects of deforestation through mutually beneficial partnerships to regenerate forest covers that were depleted over the years.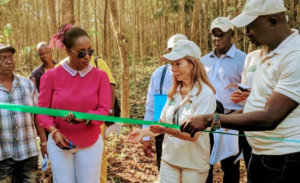 The governor disclosed this at the commissioning of the 1200 trees plantation, an initiative by Association Bernadette Strebel World Peace, in Ehor Forest Reserve, Uhunmwode Local Government Area of the state.
Obaseki, who was represented by the Commissioner for Environment and Sustainability, Dame Omua Alonge Oni-Okpaku, said that the state government is encouraging Public Private Partnership (PPP) in environmental regeneration, which will provide room for more stakeholders to contribute to efforts at replenishing the state's forest cover.
According to him "Our forest has been greatly devastated and there is an urgent need for massive reforestation and protection of the little available forest. Edo State Government has high potential for forest regeneration and this government is committed to the planting of tress to restore our lost forest reserves. As a government, we will not relent in fighting deforestation and its resultant effects with all the measures within our reach. We are more determined now than ever to bring back our forest."
The governor said that one of the ways the state government is driving this programme is by encouraging Private Public Partnership (PPP) in forest regeneration, noting, "In furtherance of this, the state's contribution towards the success of the One Million Trees project was the donation of 400ha of deforested land and the continuous supply of seedlings. Since the inception of the project, Edo State Government has not relented in the provision of seedlings. Some other NGOs are also part of this great initiative."
He added: "Our state forest tree nurseries are established to facilitate supply of planting stock for forest plantation establishment. Most of the seedlings raised are usually distributed to schools, individuals and corporate bodies. Between last year and this year, 200,000 seedlings have been distributed of which One Million Trees project got 100,000 seedlings, 50,000 each for 2017 and 2018.
"I wish to applaud the initiative of the Association Bernadette Strebel World Peace. The laudable project of planting one million trees will restore and enrich the forest resources and the environment of Edo State."
Source: https://www.vanguardngr.com/2018/10/deforestation-edo-ngo-to-regenerate-400ha-of-forest-reserve/