By Drisu Yakubu
The Peoples Democratic Party, PDP, has challenged President Muhammadu Buhari to show proof of his integrity by presenting his academic credentials, "if he has any," to the Independent National Electoral Commission, INEC, and put to an end the controversy trailing his school certificate.
PDP warns INEC against accepting Kashamu's list in Ogun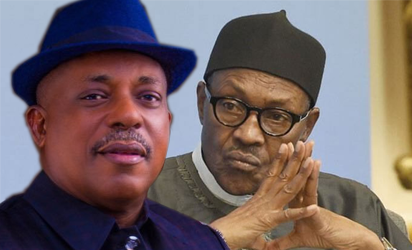 The party also tasked the Commander-in-Chief to fulfil his obligation like other Presidential candidates, instead of bugging the commission with affidavits.
PDP still not confident of INEC, Secondus tells EU delegation
The PDP in a statement issued by its spokesman, Kola Ologbondiyan yesterday said while its Presidential candidate, Atiku Abubakar, has submitted his educational and other relevant documents to INEC, President Buhari is rather seeking ways to short-circuit the system, instead of complying with set rules.
The statement read: "A situation where President Buhari has been dodging the certificate issue raises huge questions of integrity, which demands that he makes available his credentials, or apologize to Nigerians, if he has none, so that the nation can move ahead.
"President Buhari knows by now that Nigerians are no longer interested in his claims in an affidavit wherein he stated, 'I am the above-named person and the deponent of this affidavit herein. All my academic qualification documents as filled in my Presidential form, APC/001/2015 are currently with the Secretary of the Military Board as of the time of this affidavit.'
"PDP maintains that integrity strictly demands that President Buhari, particularly as the commander-in-chief, writes to the military authorities directing them to forward his claimed credentials to INEC, as requisite evidence of compliance with a key requirement for election into the Office of the President, under section 131 (d) of the 1999 Constitution (as amended).
"That President Buhari and the previous INEC succeeded in circumventing the law in 2015 does not make such acceptable in our current electoral process.
"President Buhari and the All Progressives Congress, APC,  must realize that even their followers, that were beguiled in 2015, are currently not prepared to accept 'NEPA bill' as WAEC certificate in the 2019 elections.
"This is particularly as the certificate scandal contributes to the erosion of Mr. President's rectitude to check the humongous corruption, ineptitude and recklessness among his officials which has brought the nation to its knees under his administration."
The party added that the  President's  "failure to tidy up such grey areas also contributes to his inability to cultivate and earn the productive followership of the youth and the respect of the international community, resulting in retardation in national productivity and dearth of international development partnership in the last three and half years."
Source: https://www.vanguardngr.com/2018/10/2019-order-army-to-release-your-certificate-to-inec-pdp-urges-buhari/