African 400m women record holder, Falilat Ogunkoya will kick off activities of the 2019 Warri/Effurun Peace Marathon on October 30 in Warri with the unveiling of the a new logo, which the organizers say will mark a new turn for the event.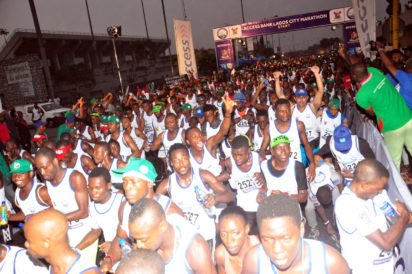 There are indications the Warri/Effurun Peace marathon which started in 2016 will upgrade to a world class marathon and already, corporate Nigerian concerns have started to show interest to give financial muscle to the event.
"We have been talking to private and corporate concerns and we are hopeful of getting a major sponsor.
"This is why are re-branding the race to meet up to international standards. We are looking at doing 21km race instead of the 10km," said chief executive officer, Mrs Joyce Bozimo.
"Falilat will be in Warri to unveil the logo, to kick start our preparations for the 2019 edition, which we hope to make a bigger event."
The 2019 edition has been fix for March 30. "The main aim of the race is to promote peace in Warri, Effurun and all the neighboring villages but beyond promoting peace, this race aim to promote all the benefits associated with running which include but not limited to promotion of healthy living, tourism, promote local business especially the hospitality industry and get Deltans to embrace running as a way of life," Mrs Bozimo added.
Source: https://www.vanguardngr.com/2018/10/ogunkoya-flags-off-2019-warri-effurun-peace-marathon-activities/