Abia Gov. Okezie Ikpeazu has urged Nigerians and other nationals contemplating investing to invest in Aba, whose great investment potential would soon double with Enyimba Economic City construction.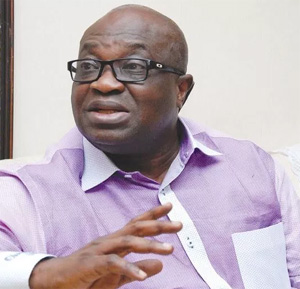 Dr Ikpeazu made this call in Aba on Thursday while speaking at the First Aba Chamber of Commerce, Industry, Mines and Agriculture (ACCIMA), Business and Investment Summit.
Speaking about the potential of the economic city, the governor expressed delight in the planned city.
"I am proud to say that we have an irresistible product that will turn around not only the economy of Abia, not only the economy of Nigeria but the economy of Africa.
"Everything was taken into perspective in the conceptualisation and design of Enyimba Economic City.
"That is the way to go and I am sure that those who are still contemplating and thinking on where to take their investment, to bring it to Aba to avoid "Had I known.
"Because Aba is going to be the first city in Nigeria to have uninterrupted power supply and Enyimba Economic City will fly.
"The time to invest in Aba is now to avoid "Had I known", he said.
The governor noted that the event was not a "celebration of anything" but a meeting to show that his administration was on the right path with its economic plans.
He said that his administration had trained some artisans to produce better shoes in China, noting that with improved Made-In-Aba products in the market Nigerians should patronise home-made products to boost the economy.
During his speech, the President, ACCIMA, Sir Andy Obasi, recalled that Aba had since the colonial days developed as a commercial city where the natives traded palm kernel with British merchants.
He said the Aba River, the city's location in Eastern Nigeria and the passage of the Nigerian Railway System in 1915 attracted local and international investors and grew investments in it.
Obasi said that Aba remained a viable investment centre because it hosted West Africa's largest Market in Ariaria, vibrant small and medium scale industries community and abundant skilled labour.
The Chairman, Abia Think-Tank Association, Mazi Sam Ohuabunwa, said Aba was a well planned city in the early 1960s and 1970s which made it an industrial hub and home of multi-nationals.
He said that infrastructure breakdown in the 1990s brought with it the rise in cost of production and resulted in uncoordinated investments and exit of many companies.
Ohuabunwa said that even in decline, Aba still retained some strength as the key commercial hub of the South East adding that the Igbos needed to take advantage of the potential of Aba.
He listed plans being made by Abia professionals and the Ikpeazu administration to ensure that the city regained its lost glory as a notable investment centre praying that the Aba dream would soon be realised.(NAN)
Source: https://www.vanguardngr.com/2018/10/aba-has-great-future-investment-potential-ikpeazu/