Lokoja (Kogi) – A financial expert, Prof Uche Uwaleke, on Thursday said that the Federal Government's decision to reduce the size of the 2019 budget to N8.73 trillion would reduce inflation threat.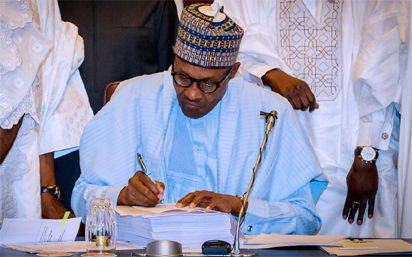 Uwaleke, Head of Banking and Finance Department, Nasarawa State University Keffi, in Lokoja that the decision was wise considering the country's present fiscal realities.
The Federal Executive Council (FEC) on Oct. 24 approved a budgetary proposal of N8.73 trillion for 2019 fiscal year, N400 billion lower than the 2018 budget which stood at N9.12 trillion.
The Minister of Budget and National Planning, Sen. Udoma Udo Udoma, made the disclosure when he addressed State House correspondents at the end of FEC meeting.
Udoma said the council also approved the 2019/2021 Medium Term Expenditure Framework (MTEF) Fiscal Strategy Paper (FSP).
According to him, the MTEF/FSP is designed to translate the strategic development objectives of the Economic Recovery and Growth Plan (ERGP) to realistic and implementable budget framework for the medium term.
He said the key assumptions highlights being proposed for 2019 budget included oil price benchmark of 60 dollars per barrel, oil production of 2.3 million barrels per day, exchange rate of N305/1 dollar, and GDP growth rate of 3.01 per cent.
Uwaleke said that the decision to slow down government's expansionary spending, especially in an electioneering year would pose less threat to inflation.
Okowa presents 2019 budget estimate of N367.09 to Delta Assembly
He added that the decision would reduce the fiscal deficit to Gross Domestic Product ratio in line with the Economic Recovery and Growth Plan (ERGP) target.
According to him, the reduction will curtail government borrowing in view of the present huge debt service burden which is clearly unsustainable at over 65 per cent of revenue.
"I think the decision to scale down on the size of the 2019 budget is wise considering the present fiscal realities in Nigeria.
"The only worrying aspect of the proposed 2019 fiscal framework is the significant reduction in capital expenditure," Uwaleke said.
He noted that the 2017 budget implementation experience coupled with the revenue challenges being encountered in the execution of the 2018 budget called for a conservative approach to next year's budget.
"For example, the 2017 budget implementation report recently released by the Budget Office speaks of adverse variances in key budget targets due mainly to shortfalls in actual revenue receipts resulting in huge fiscal deficit.
"The same scenario is playing out with regard to the 2018 budget in respect of which the Federal Government has just sought the approval of the National Assembly for about N2.8 billion to finance the budget.
"Much as the increase in recurrent spending ostensibly to accommodate the implementation of the minimum wage is justified, the Efficiency Unit of the Federal Ministry of Finance should intensify efforts at reducing MDAs overheads and avoidable wastages.
"Any funds freed in the process in addition to proceeds from the implementation of the newly introduced Voluntary Offshore Assets Disclosure Scheme and other miscellaneous income such as proceeds from loot recoveries should be used to augment the meagre allocation to capital expenditure," he said. (NAN)
Source: https://www.vanguardngr.com/2018/10/2019-n8-73trn-budget-size-will-reduce-inflation-threat-expert/