By Anthony Ogbonna
The Lagos State Governor, Akinwunmi Ambode, has said that he would rally heavy support to ensure that the governorship candidate of the All Progressives Congress, APC, party, Babajide Sanwo-Olu whose coming has denied him a second term in office under APC wins the coming election in the state.
Buhari, Ambode, Tinubu for Island Club 75th anniversary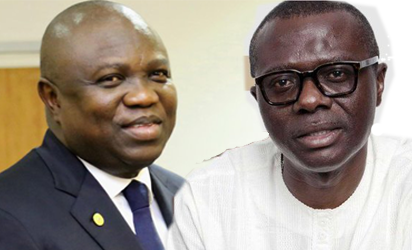 This is coming amidst speculations that the Lagos state Governor may be impeached, though this speculation has been dispelled by the Speaker, Lagos state House of Assembly Hon. Mudashiru Obasa.
Enugu Governor's wife advises women on proper immunization of children
Mr. Ambode also said that he is committed to ensuring a re-election of President Muhammadu Buhari come 2019 presidential election.
The Lagos state Governor, who had accompanied President Buhari to perform the official commissioning of the new Economic Community of West African States (ECOWAS) Border Posts at Seme-Krake joint border post in Badagry, made the statement on Tuesday while speaking with journalists.
Recall that Ambode was thrashed in the party's governorship primaries after the National leader of the party and former governor of Lagos, Ahmed Tinubu, threw his weight on Sanwo-Olu to replace Ambode.
Although, ahead of the primaries, Ambode had fought back, accusing Sanwo-Olu of having criminal and unfavourable psychological issues to clear, the later had however denied any such issues.
However, since after the primaries, Ambode has shown, on different occasions, his total support for the party and Sanwo-Olu.
Ambode, again, made known his continued support for the party and Sanwo-Olu on Tuesday, when he pledged that he would campaign heavily for Sanwo-Olu's emergence as Lagos state governor and for the re-election bid of Buhari as Nigeria's president.
According to him, "I have just accompanied Mr. President to the Nigerian-Benin Border Post. So what we have commissioned today is a joint Border Patrol post between Nigeria and the Republic of Benin and it is called Semo-Krake Border Post.
"But again, just to also use this opportunity to let Lagosians know that we are heavily committed to the re-election of Mr. President and you can see that his continuous visit to Lagos reiterates the fact that he is actually a lover of Lagos State and I am committed to ensuring his re-election.
"We are going to campaign heavily for him. I am also committed to ensuring that the APC wins the governorship election come 2019. We support the candidacy of Babajide Sanwo-Olu and we would make sure that APC retains Lagos State and the centre," said Governor Ambode.
Source: https://www.vanguardngr.com/2018/10/well-campaign-heavily-for-buhari-sanwo-olu-ambode/