Confirms Tukur Ingawa as Chairman, Federal Civil Service Commission, 12 others as Commissioners
Lanre Gbajabiamila too as Director- General, National Lottery Commission
By Henry Umoru
ABUJA- THE Senate, Thursday suspended for two weeks to allow its standing Committees carry out what it termed, effective and robust oversight functions on Ministries, Departments and Agencies of government.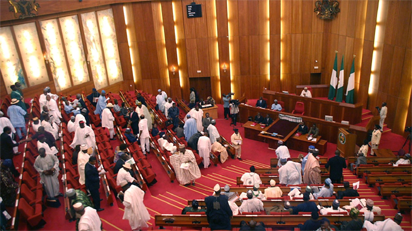 Speaking in Abuja at the end of Plenary, Senate President, Dr. Bukola Saraki said that it became imperative to suspend plenary sitting for two weeks to allow the committees concluded the assignments, just as he said that the upper chamber will resume plenary on November 6, 2018.
Saraki, who explained that the committees are going to carry out the oversight functions, just as he clarified that it was only plenary session that was being suspended, adding, "We expect our committees to carry out oversight in this period."
The Senate has however directed its standing committees to commence immediate investigation into the extent to which the N9.120 trillion 2018 budget was being implemented.
The committees were equally charged to conduct checks on the implementation of the $2.78 billion Eurobond by Ministries, Departments and Agencies (MDAs).
Speaking further Saraki said, "Particularly if you recollect, when we debated the Eurobond, there were a lot of questions on implementation and utilisation of those loans. But it was because of the expediency and the demand from the executive that we approved those loans; we did it on the understanding that our committees will quickly go and do oversight in MDAs to see that those funds have been properly utilised"
On the need to determine how projects in the 2018 budget were being implemented, Saraki who noted that the committees have been instructed to do serious work, said, "So I will charge like all our committees that during this period, they should carry out the necessary oversight so that we can report when we do resume back to plenary. The committees will be meeting till 6th of November."
Meanwhile, the Senate yesterday confirmed Dr. Bello Tukur Ingawa from Katsina State as the Chairman, of the Federal Civil Service Commission.
Also today, the Senate confirmed twelve Commissioners for the Federal Civil Service Commission.
The Confirmation of the Chairman and Commissioners followed the consideration of the Senator Emmanuel Paulker, PDP, Bayelsa Central led Senate Committee on Establishment and Public Services.
Those confirmed as new Commissioners were Moses Musa Ngbale from Adamawa State; Waziri Umara Ngurno from Borno State; Alhaji Bello Mahmoud Babura from Jigawa State; Arch. Ahmed M. Sama from Kebbi State and Princess Iyabode Odulate- Yusuf from Ogun State.
Also confirmed as new Commissioners were Shehu Umar Danyaya from Niger State; Fatai Newton Adebayo Olapade from Oyo State; Chief EJoh Michael Chukwuemeka from Anambra State and Joe Philip Poroma from Rivers.
Empowerment: FG disburses N110m to petty traders in Nasarawa
Those confirmed for renewal of appointments were Alhaji Ibrahim Mohammed from Kaduna State; Professor Aminu Dio Sheidu from Kogi State and Mr. Simon Etim from Akwa Ibom State.
Though Senator Rose Oko, PDP, Cross River North raised an objection against the Akwa Ibom State nomination against the backdrop that it was the turn of her state, but at the end of your day, the yes had it and that of Akwa Ibom scaled through.
Also , following the consideration of the Senator Obinna Ogba, PDP, Ebonyi Central led Senate Committee on Sports and Youth Development, confirmed Mr. Lanre Gbajabiamila as the Director- General, National Lottery Regulatory Commission.
Also, the Senate President announced Senator Danjuma La'ah, PDP, Kaduna South as the Chairman, Senate Committee on Poverty Alleviation. he replaces the late former Chairman, Senator Ali Wakili, APC, Bauchi South who died in April this year.
Source: https://www.vanguardngr.com/2018/10/senate-suspends-plenary-for-two-weeks-to-probe-implementation-of-budget-2-7m-eurobond/