By Vincent Ujumadu
AWKA- CLERICS under the auspices of Association of Nigerian Bishops Incorporated have honoured an elder statesman and second republic lawmaker, Chief Sylvester Nwobu Alor for his positive contributions in community development and service to mankind.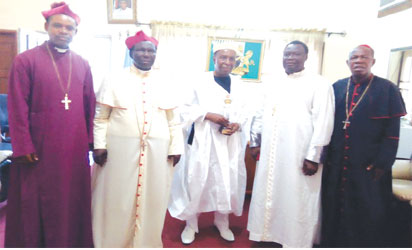 Peter Obi as Atiku's running mate: It's masterstroke
The latest award of National Pillar of Light, brings to about 50 the number of awards received by Nwobu Alor, who is an uncle to Mr. Peter Obi, the vice presidential candidate of Peoples Democratic Party ( PDP).
The National president of the association, Archbishop C.T.S Onuorah, who led Archbishop Ogaba Ogbu from Kaduna State, Bishop Raphael Ilebenduanya from Port Harcourt, Rivers State and Bishop Aggrey Oyibado from Warri, Delta State, said during the ceremony in Awka that selecting the elder statesman for the award was a deliberate decision to appreciate him for his exploits in youth empowerment, scholarship award to many indigent students and for facilitating employment of many individuals in Anambra state.
Why Igbo place premium on New Yam Festival – Ubani
Bishop Onuorah, who explained that the objective of the association was to promote unity and peace among Nigerians and brotherhood among bishops, added that the association had created a platform for exchange of ideas on matters that bordered on good governance, as well support for the state and federal governments to uphold peace, unity and progress in the country.
Egg is vital to brain development, says CPC
According to the clerics, Chief Nwaobu Alor was also selected for the award based on his right standing in his community and humanity in general.
He said: "We could have selected a governor or another statesman, but we gave it to him because of his past records and we call on other politicians to emulate him. "Today in Nigeria, the rate of corruption is alarming and a lot of politicians can be bought over, but not Nwobu Alor. You cannot buy him over with money.
"He is a man of the people and once you love your people, you will do well in government."
In his speech, Chief Nwobu Alor thanked the association for recognizing his service to humanity and appealed to Nigerian leaders to ensure they served God through service to humanity, adding that the award would spur him to render more services to his people and the country at large.
He said that Nigerians were tired of being ruled by those who metamorphosed into autocratic rulers, expressing optimism that the anger of God would one day visit such people.
"My worry is that we are blaming politicians instead of blaming ourselves for not doing much in making this country governable. Anybody that receives money to vote an unqualified person in any position is committing a moral sin and if the person elected derails, you don't have moral right to complain. If we vote for a right candidate, most of our problems will disappear," Nwobu Alor said.
He also spoke on Obi's nomination as the vice presidential candidate of the PDP, regretting that despite the clamour by the Igbo for inclusion in the national affairs in Nigeria, some leaders from the tribe were heating the polity after the nomination of their own son who performed very well as governor for eight years.
He said further: "God in his infinite mercy has provided the answer by influencing the principal person, Alhaji Atiku Abubakar, to nominate a person from the South East and people from the North and South and even those in Diaspora are commending the Atiku/Obi ticket.
"But unfortunately, some Igbo men are against it. The extent of criminality in our political dispensation is alarming. I don't want to create unnecessary political tension; otherwise, I will ask that the people opposing the nomination be stoned because they are fighting against our Igbo interest."
Source: https://www.vanguardngr.com/2018/10/nigerian-bishops-honour-nwobu-alor-for-humanitarian-services/