Over 80 people, including 30 police officers, were injured after fans invaded the pitch at an Algerian first division match at the weekend, according to official sources on Monday.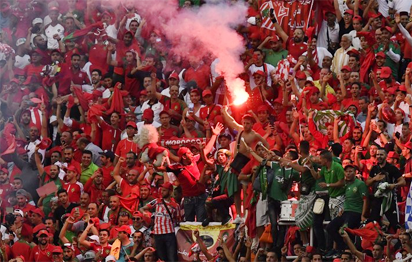 Clashes erupted at Saturday's top-flight game between CA Bordj Bou Arreridj and MC Alger (MCA) around 200km south-east of Algiers.
A doctor reported up to 50 people "were admitted to hospital", but none with serious injuries. The three most serious cases involved fractures.
None of the police officers were seriously injured either, a source told AFP, who also denied reports that an MCA player had been stabbed.
"There were no players" amongst the injured, the doctor confirmed.
Social media images showed supporters invading the pitch on the final whistle and confronting MCA players, some of whom had to climb over pitch-side barriers and take refuge amongst their club's fans in the stands.
Images also depicted one of the MCA players attended to with cuts to his stomach.
"This player was hurt climbing over the iron barrier," a police spokesman reported.
Algeria's chief of police Mustapha Labiri has sent investigators to Bordj Bou Arreridj.
Algerian football has been plagued by almost daily violence for some years.
In 2014 Albert Ebosse, a Cameroon striker with Algeria's JS Kabylie, was killed on the field by a projectile thrown from the stands.
But neither the shock triggered by the tragedy, nor sanctions or fair-play campaigns have succeeded in quelling the phenomenon.
Last December, clashes between rival fans at an amateur derby in eastern Algeria left one person dead.
In mid-April, more than 100 people were injured in clashes at an Algerian Cup semi-final, pushing the interior ministry to set up a commission of inquiry, determined to "put an end" to the violence.
Source: https://www.vanguardngr.com/2018/10/over-80-wounded-in-algerian-football-violence/