By Emma Amaize and Chancel Sunday
WARRI-  RESIDENTS displaced by flood at Ogodobiri,  Gbekebor and other communities in Bomadi and Burutu Local Government Areas, Delta State, have appealed to  the Federal and Delta State Governments to without delay send food and other  relief materials to save the starving and sick victims.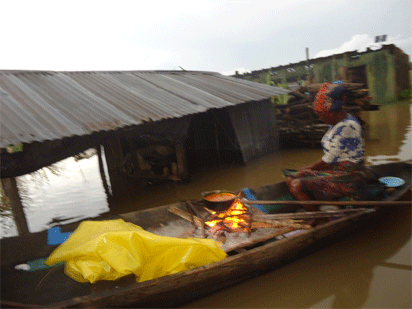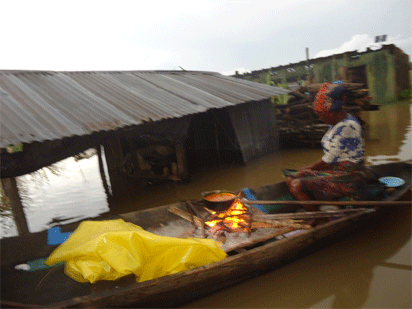 UNAGHA, EX-APC PRESIDENTIAL ASPIRANT YELLS: APC fractured in nearly 36 states, can't win with Oshiomhole
Secretary and spokesperson of Ogodobiri community, Mr. Felix Okpe, who spoke for the Internally Displaced Persons, IDPs, at Ogodobiri, told Vanguard that affected persons still cooking in their canoes were hungry and have nowhere to sleep.
"We are calling on the federal and state governments to come to their rescue by providing them food and relocation them to Internally Displaced Persons, IDPs camps. Many of them have also falling sick with different ailments," he asserted.
Chairman of Gbekebor community, Mr Ayakpo Akiefa, and the urban secretary, Mr Tonfa Cyprian, in a statement, called on the National Emergency Management Agency, NEMA, Niger Delta Development Commission, NDDC, Federal Ministry of Environment, Delta State Oil Producing Areas Development Commission, DESOPADEC and Delta Ministry of Environment to immediately come to their aid.
He said that the entire residents of the community have been rendered homeless by coastal flood, which destroyed farmlands and property worth millions of naira belonging to community folks.
They also confirmed that displaced residents were currently living on raised platforms and rafts, as the community is located in the deep mangrove.
They also appealed to the Delta State Oil Producing Areas Development Commission (DESOPADEC), Delta State Ministry of Environment and Gov Ifeanyi Okowa to, without delay, pay attention and send relief materials to the community.
"The Gbekebor case is peculiar because of the collapsed seawall coupled with the geographical location of the community, which is located along the River Forcados flat, that is, on the direct water current.
"Therefore, the community is appealing to the federal government to come to our aid by constructing shore protection to save us from the perpetual fear on yearly basis.
Meanwhile, a nongovernmental organization, Foundation for Human Rights and Anti-Corruption Crusaders, FOHURAC, yesterday, accused government of abandoning many of the affected riverine communities in Delta state.
National president of the group, Cleric Alaowei, Esq., in a statement, said its Disaster Response Team, DRT, that visited affected communities in Delta state discovered "that the responses of the governments at all levels to the blight of these communities are very poor. All of the communities visited by our team, only few of them received relief materials from the local government councils."
"In Burutu, the council only sent relief materials to four communities where over 70 communities were affected. The local government chairmen of Warri North, Warri South, Burutu, Bomadi and Patani LGAs did not show any concern by visiting these communities to ascertain the level of damage.
"In Warri South West local government area, the council chairman sent relief materials to a good number of the communities affected. The same thing applies to Warri North and Bomadi local governments respectively.
"In the same vein, no state/federal government team has visited these communities unlike what is being done in the upland areas. The riverine communities have been left to their fate to suffer the excruciating effects of the flood.
"We cannot rule out epidemics and acute starvation as we earlier alerted the world. Just three days ago, a lady lost her one year old child to the invading flood at Bubougbene community in Burutu local government area," it said.
The group asserted: "The lackadaisical attitude of the governments at all levels towards these communities is aggravating the whole thing. We are made to understand that the Delta state government has set up a Flood Management Committee to cater for the victims of the flood. Our grouse is that why the riverine communities are not being considered in the government's programme? Are they not part of the state?"
FOHURACE added:"To our chagrin, the same committee which had built IDPs Camps in upland areas for the affected communities there has paid no attention to the riverine dwellers. The case of the riverine people is utter abandonment by the committee."
Source: https://www.vanguardngr.com/2018/10/starving-sick-delta-idps-cry-out-for-assistance/