By Peter Okutu
Abakaliki—THE Bishop of Anglican Diocese of Afikpo, Ebonyi State, Rev. Paul Udogu, weekend, called on President Muhammadu Buhari to retire all the service chiefs in the country without further delay.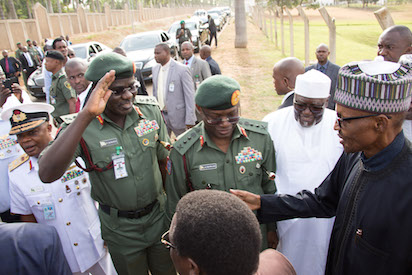 He also enjoined the Federal Government to step up its security network and responsibility in the country to ensure the safety of Nigerians across the country.
In his Presidential Address/Bishop's charge during 3rd session of 4th Synod of the Diocese, Udogu said there has never been a time in the history of the country except the period of the civil war that innocent citizens were massacred on a daily basis than now.
He condemned incessant killings in the country by Boko Haram terrorists group   and herdsmen and expressed surprise that the federal government has refused to declare herdsmen a terrorist group the way it declared Indigenous People of Biafra (IPOB) which according to him does not bear arms like the Islamic sects and herdsmen.
"Truly, Nigeria today is at crossroads. There was never a time in the history of Nigeria that we are so divided on tribal, ethnic, religious, political, and geopolitical zones than now.
"There was never a time in our history except for the period of civil war that innocent citizens are massacred on a daily basis than now.
Boko Haram kills 2, burns villages after looting food supplies
"The Federal Government has continued to assure the nation that Boko Haram has been dislodged. But events have proved contrary. Boko Haram members have continued to engage in target bombing, invading villages, killing and destroying people's properties.
"The inability of the government to control the regular occurrences of herdsmen attack seems to suggest that there are some 'untouchable ' personalities behind the herdsmen. There seems to be a possible strange collaboration between the herdsmen and security agents deployed to maintain law and order. The herdsmen attack has political and religious undertone", he said.
On next year's general election Udogu called on the federal government to save the country from collapse and disintegration by allowing free and fair election during the election.
"We must state categorically that the 2019 general election is very crucial to the destiny of Nigeria. Our politicians must be reminded that power belongs to God. The electorate should not be fooled again by ethnic or religious sentiments. We must take our destiny into our hands by voting wisely.
"Nigeria is so divided now that we need a leader who will unite her again. We need leaders who have the interest of our country in their hearts and those who are not religiously or tribally biased", the cleric said.
Source: https://www.vanguardngr.com/2018/10/retire-all-service-chiefs-anglican-bishop-urges-buhari/