Callum Chick squirmed over the Montpellier line in the ninth minute of stoppage time to give Newcastle a 23-20 European Champions Cup victory on Sunday.
It was a second narrow victory over a French power in a week for Newcastle, who won by one point away to three times European champions Toulon last Sunday. The bottom club in the English Premiership now lead Pool 5.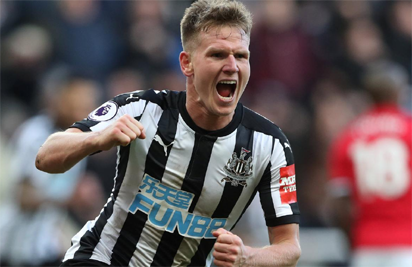 Newcastle started quickly and led 10-0 after five minutes following a try by Gary Graham.
The home team sliced Montpellier open repeatedly in the first half but last-ditch defence and a couple of fumbles close to the line prevented Newcastle tacking their chances.
Montpellier grappled away control in the second half, pinning the home team back and forcing a series of penalties.
Lock Paul Willemse put Montpellier ahead with a try after the visiting pack drove Newcastle back following a lineout.
Ruan Pienaar missed the conversion but padded the lead with his fifth successful penalty kick. From the ensuing kick off Newcastle prop Logovi'i Mulipola earned a yellow card for a high tackle as he tried to win the ball.
With seven minutes left, Newcastle seemed doomed. But they finally managed to create some pressure and delayed the final whistle by keeping the ball as they battered away at Montpellier in an eight-minute, 40-phase close-range siege which ended with Chick shoving over by the posts.
"The endeavour and the commitment those boys showed at the end…," Joel Hodgson the home fly half told BT Sport. "We stuck to our guns. Probably left it a bit later than we would have liked."
The second round of the competition ends later on Sunday with champions Leinster at Toulouse and Cardiff Blues hosting Glasgow.
Source: https://www.vanguardngr.com/2018/10/late-try-gives-newcastle-victory-over-montpellier/