The Inspector General of Police, Alhaji Ibrahim Idris, has commiserated with people of Kutigi, Niger and Nigerians over the sudden demise of the former Chief Justice of Nigeria, (CJN) Justice Idris Kutigi, describing him as humble and a complete gentleman.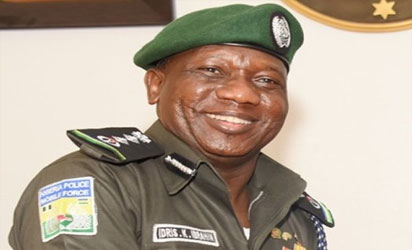 IGP Idris in a condolence message in Abuja on Sunday, said he was deeply touched when he received the news that late Legbo Kutigi had passed on.
Reggae legend Ras Kimono's widow, Efe, dies one month after husband's burial
"His death is a huge loss not only to Kutigi people, Bida Emirate, but also to Niger state and the nation as a whole," Idris said.
According to him, "Late Legbo-Kutigi was an elder statesman, an exemplary leader and a bridge builder who has contributed immensely to the peace and development of the country".
He joined the government and people of Niger, the Nigeria Bar Association and the National Judicial Council in mourning the erudite jurist.
The police chief noted that the deceased contributed immensely to the structuring of Nigeria's jurisprudence.
The police boss said that the deceased was a great leader who is also deep in his faith with Allah.
He urged that his exemplary leadership in promoting peace, unity and progress in Nigeria should be remembered as his legacy towards making Nigeria a better place to live.
"Even after his tenure as the Chief Justice of Nigeria, he continued with all his good attributes of ensuring justice, peace, unity and progress of not only the state but the country at large."
According to the police chief, "late Legbo-Kutigi showed love to all and sundry, irrespective of their tribe, religious inclination and in spite of these, he was a Godly man who had the interest of his people at heart above any other thing."
The police chief stressed that it was significant that throughout his life, late Legbo-Kutigi retained the humble and unassuming mien of a technocrat, saying as a leader, he retained the respect of all and sundry.
"He was a bridge builder, an amiable personality who is at home with his people, whose vacuum would be difficult to fill," he added.
"I on behalf of the police family wish to as also condole the governor, Alhaji Sani Bello, his family and all those leaders who advised and helped him when he served as the Chief Justice of Nigeria.
Kutigi, born in December 1939, died on Sunday in London during a brief illness.
Late Kutigi was the Chief Justice of Nigeria from Jan. 30, 2007 until Dec. 30 2009.
NAN
Source: https://www.vanguardngr.com/2018/10/igp-mourns-former-cjn-kutigi-describes-him-as-a-complete-gentleman/