By Olasunkanmi Akoni
Following incessant armed robbery attacks in traffic gridlock, especially in Mile 2 axis along Oshodi Apapa Expressway, Lagos residents who appeared to have given up on Governor Akinwumi Ambode, have cried to the state lawmakers to intervene immediately and save Lagos from total collapse.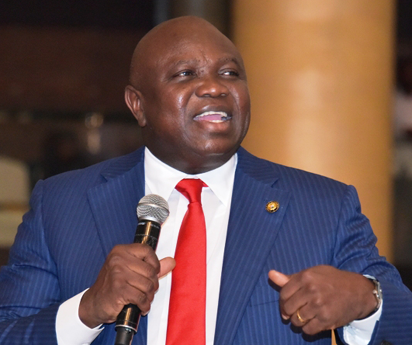 In recent times many innocent citizens had lost their cash and valuables to men of the underworld who operated unhindered both in the afternoon and in the evening despite the presence of military and police personnel.
Four members of staff of Vanguard media Limited, within a month on their way home after the close of work, had been attacked and robbed of cash and other valuables such as laptops, mobile phones and ATM cards. Two other persons were accosted in their vehicles while others were attacked on their way to board commercial buses to their destinations.
Photos/video: IPOB leader, Nnamdi Kanu reappears in Israel
According to the victims, the robbers always operated in three and on foot and would hide between the trucks and other articulated vehicles parked on the road. Sometimes they broke windscreen of adamant motorists and subsequently robbed them of their possessions.
One of the editors who was robbed at gunpoint in his car was accompanied to a nearby ATM point to withdraw certain amount of money when the robbers did not find any cash on him. The robbers went scot-free after collecting the money and other valuable items from him.
Several complaints lodged at FESTAC Police Station and Area A Command in the past have yielded no positive results as the robbers operate on a daily basis without any single arrest, let alone prosecution to serve as deterrent.
One of the Vanguard staff almost lost his life at a point when he was attacked by a gang of armed robbers who smashed his head with the butt of a gun. Save for Divine intervention he could have passed out from the impact but miraculously, he regained consciousness soon after the attack.
Reacting to the menace which had posed a nightmare, motorists and residents have pleaded with relevant authorities, especially, the representatives of the people at the state House of Assembly for immediate intervention and rescue the situation by ensuring safety of lives and property in the area.
Mr. Kola Adebiyi, a worker in the area, called on lawmakers in the state to compel Governor
Ambode to order deployment of security personnel to the area to restore sanity.
Oyo Assembly moves to end underage street begging
He said: "Like the lawmakers ordered PSP back to work, they should come to our rescue in Mile-2 area by ordering deployment of security personnel to save our lives and property.
"This menace, aside the intractable traffic gridlock in the area has reached an alarming state and it should stop immediately. These robbers are not spirit or ghosts, the security operatives know them." Mr. James Akpan, a resident in Kirikiri area of Apapa, said: "To avoid a mob action, it's necessary for authorities to do the needful before residents resort to self help which could be counter-productive in the end.
"We are using this opportunity to beg our government to come to our rescue and protect us which they have sworn to do . Election is coming, we will no longer entertain sweet promises. We will vote those who have genuine interest of the public at heart and not those who care less."
Source: https://www.vanguardngr.com/2018/10/save-lagos-from-total-collapse-residents-cry-to-lawmakers/