By Morenike Taire
Dr Nnezi Uduma-Olugu first came into limelight when she bagged a First Class Honours  degree from the prestigious University of Nigeria, Nsukka. She followed this up by being the best in her class in the Masters Degree graduating class of 1989 (in the same University), and a gold medal award in Landscape Architecture during her studies for a Master of Landscape Architecture degree from a Canadian University (University of Manitoba, Winnipeg) where she went as a Commonwealth Scholar. Upon her return to Nigeria, she has continued to work with both ends of the architectural spectrum as an architect and landscape architect.
She set up her own firm Designedscapes Ltd in 1997. Arising from the need to set up a Master of Landscape Architecture programme (the first of its kind in sub-Saharan Africa), Dr Nnezi joined the CAA-accredited Department of Architecture, University of Lagos Akoka where she, along with her colleagues, was at the forefront of establishing the acclaimed MLA programme domiciled in the department. She currently serves as the Programme Coordinator for the MLA programme.
A chartered architect and landscape architect, Dr Nnezi Uduma-Olugu is a member of NIA and has served as the Vice President of Society of Landscape Architecture of Nigeria (SLAN).She is also a member of the American Society of Landscape Architects (ASLA) as well as AARCHES (Association of Architectural Educators). She is widely published and was among the notable female architects highlighted in the book  Nigerian Women of impact: In Architecture.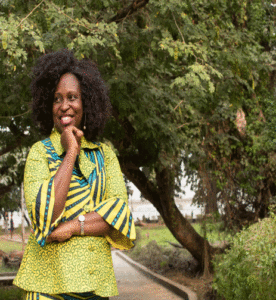 A role model to many, Dr Nnezi Uduma-Olugu completed her doctoral thesis in landscape and tourism in the University of Lagos, Akoka. Dr Nnezi Uduma-Olugu is happily married to Mr Uduma-Olugu and has two children; Grace and Josh.
Perhaps the most striking things about Nnezi Uduma Olugu are her easy manner and softness of speech. Behind all of that is a woman of depth and intellect who brings her various talents and ideas to bear in many various ways, including the books she has authored. The don shares some of these ideas with WW, subsequent to the launch of her latest book.
As a working academic also writing books, how have you been coping?
In a way it was easy because it was part of what I was teaching and what I have learnt over the years so typically I knew what to write but to find the actual time and to organize it into a book; and then secondly I was doing too many things at the same time so I had to prioritize to be able to finish the various things. I had to   finish my PhD. Also the second thing that influenced the book's completion had to do with the illustration. For many years I couldn't get to the publishers because I wasn't satisfied with the illustrations I had. I had different people do the illustrations for me but I didn't believe any of them was as good as they needed to be so that was a problem until I found the right one.
So would you say that you are a perfectionist?
(laughs) When I was younger, certainly. Nothing would go by me without being perfect but I think life has softened that edge. I still like doing things properly but I am not as much a perfectionist as when I was younger; it was black or white but life is not like that.
What is your recently published book all about?
Idyllic Landscapes is a historical chronicle of landscapes. Because landscape architecture is not so popular I had to make it interesting not just for landscape architects or architects but in general anybody who wants to have an idea of what landscapes is all about. Unless you know where you are coming from you cannot know where you are going so it's a bit of landscape architecture and a bit of an introduction to what landscape is in a breezy fashion. Anybody can pick it up and just flick through and also that was why it was important to have the illustrations as interesting as they come so even looking at the pictures themselves you get an idea of what landscape is all about? 
What is the importance of this because some would argue about the relevance of it…   At the launch of the book you had an interesting mix of people who were able to really bring out its value. Do you think it will resonate just as well with the public?
As with everything in life you have a niche. You cannot reach everybody but the journey of a thousand miles begins with a step. Even to reach everybody you have to start by reaching few people. First I am an architect. I still meet people who know I am an architect and tell me the story of how they built their houses with masons. This person did not at any point think: "if I want to build a house, why don't I go and meet an architect?" That makes me think that if something that is as basic as architecture has not influenced our people that much it's really going to be quite an ardous task getting them to plant trees and recognize what value you have by having a pleasant environment.
Can you tell us about some of the idyllic landscapes featured in your book?
I can talk about Le Notre  Gardens. People who travel to Paris go to all these big castles that have gardens that go on and on for miles. Another thing the book does is to talk about the philosophical content that informs the landscape. There is the story of a French king who was almost like an emperor.   Because he had done so well and there was peace and he had so much wealth and his people had conquered many lands, he had a lot of money at hand. At some point in time one of his finance ministers in charge  of the treasury of France at that time built a house and invited the king to come to the opening and when the king saw how grand the house was and the garden was quite enormous, going on for miles and miles; how opulent it was- it became obvious that the man could not have done it on the salary and the story goes that he took over the house and imprisoned the guy. That is one of the gardens that people go to see. After that he then commissioned Andre Le Notre who was a gardener at that time and gave him a much bigger space. It was very lush landscaping.
Are there other stories that are closer home?
Flooding: Bayelsa yet to receive financial assistance from FG – Dickson
Of course there are. The Benin Moat  which a lot of people do not know much about. It shows just how interesting it is and how Nigeria and Africa were not left behind at all; just that our history was not chronicled; rather it had been oral tradition so they didn't do much recording of that so as with oral tradition when things go   bad we forget them. The Benin Empire was one of the oldest and most financially developed places in West Africa and they needed some kind of protection so the moats were a defensive mechanism which was constructed at that time at the instance of the monarch of that time Oba Oguola who was very powerful and historians have looked at how the moats have very massive construction- the second largest man-made structure as at that time and comprised a very complex network of ramparts and moats; very high, the water was used to clean the mountain around it which formed quite an extensive walls around it. It's really incredible when you look at how the thing was done. In fact one of the Europeans that came at the time marveled at the phenomenon- the way the construction predated the discovery of the technology. Apart from an interest in Landscape I also love tourism so I'm hoping that at some point I will be able to join the two interests together because somebody can come from anywhere and want to just go and see and when he gets there will be able to have something to take away as a result of visiting there.
When governor Fashola was trying to plant flowers and the rest, a lot of people criticized him.
In fact strictly speaking I don't know if any other governor has done for landscape what Fashola did. Yes there are many needs that we have and most people are not having enough to eat so why is he planting flowers? But it goes beyond planting trees and flowers. The crux of the matter is that we are our environment and the more sustainably we treat the resources we have, the more we are able to leave behind what our children and our grandchildren can also enjoy. The kind of benefits we get from landscape are not often tangible, more like ephemeral. If you walk down the street that has shaded trees, you feel very good, you forget your worries, the sun is not hitting you directly; if there's a high temperature you don't know about it. You have good thoughts as you go. When they started I always found reason to go down Ikorodu Road which usually is full of traffic but just seeing the ambience created by the trees really did a lot. When it comes to landscape, it's beyond the beauty. It clears the air and beyond that anybody who traveled out of Lagos before that time, coming back is unable to recognize different parts of Lagos because sometimes when they take pictures, even in the Nollywood films, they would pretend to be abroad. Things are changing.
At the time he started there was lot of friction but people are enjoying it even though they are not willing to come out. People are a lot more aware and even in a beautiful environment you are at peace. When you are in a house filled with greens, the cost of your electricity, air conditioning goes down but if you don't have greens you will have headache, you will not be able to understand what you are doing. The sooner we understand and begin to appreciate landscape, the much better. Meanwhile appreciate landscape by the things you are able to learn from it: ecology, psychology, sociology, engineering, architecture, landscape. It's very very extensive.
How do you suggest town and gown marry?
It's really the way to go but for me- I am teaching what I am doing. It's just that there is a lot of government- I don't want to say corruption- but the people I've been able to work for, private individuals and corporate bodies are able to see the difference and the students we have trained. Politics is a bit dirty for me but if there are ways that one can be involved, why not? Slowly but surely town and gown needs to happen and it's actually happening in a lot of ways. I do a lot of work with banks but it's not yet at the level it should be.
Source: https://www.vanguardngr.com/2018/10/landscaping-is-more-than-just-beautiful-ambience-dr-nnezi-uduma-olugu/