His transformation, ideology and message
Manager, Producer, sons, others eulogise him
Listen to his music for solutions to Nigeria's problems,
Femi Falana tells 2019 Presidential candidates
By BENAJMIN NJOKU
FEW musicians in history are known to have influenced the world, and one of them was Fela Anikulapo Kuti.
As the creator of the acclaimed Afro-beat music, Fela was not just a musician, but also ' a global phenomenon' who used his music to preach against corruption, bad leadership, dictatorship at risk of his life.
While he lived, the Afro-beat king gave voice to millions of fans within and outside the shores of Nigeria. This, however, explains why the social media was agog few days ago, precisely on Tuesday, October 15, after fans took to their different platforms to celebrate the Afro-beat king's posthumous 80thbirthday, which incidentally coincides with the ongoing Felabration.
Tagged "Fela @80: Overtaking Overtake", this year's Felabration which rounds off tomorrow at the New Afrika Shrine, Ikeja, is significant as it has become a global event. The week-long event is not just about the parading of pop stars and having them entertain their fans, but more to that, it's also about reflecting on what Fela stood for, while he lived, his message, music and aspirations. Felabration today is waxing  stronger and bigger with series of activities that have continued to attract tourists from across the globe at every edition even as fans and admirers celebrate the late legend with excessive veneration. This year's celebration is no exception. Day three of this year's edition, saw pop star Timaya blowing fans away with melodious tunes. Timaya thrilled fans at the Afrika shrine on Wednesday, October 17. Timaya who is known for his magical stage performances was able to hold the audience spellbound with some of his hit songs. He  was not the only artiste that thrilled fun seekers at the event.  Also, Made Kuti, Simi and Dammy Krane were among those who got the fans dancing throughout the night. Just like Timaya and Made Kuti, the patriarch of the Kuti dynasty, Femi Kuti was also on hand to thrill the fans who couldn't wait for his electrifying performance with his band, 'The Positive Force Band.'
Like Bob Marley, it would be an outright error to pretend the actual Fela's life story was filled with an all-pervading sense of happiness, easy-going, or carefree. Indeed, while he lived, Fela fearlessly criticized Nigeria's government and the religious elite over corruption, poverty, exploitation and social maladies. His struggle made him an icon of the black power movement. His songs repeatedly landed him in trouble with the powers that be. There were arrests, imprisonment, and the burning down of his Kalakuta Republic by soldiers. Throughout it all, he never stopped believing and delivering his message even at the risk of his life. And that's why the world still celebrates Fela till date.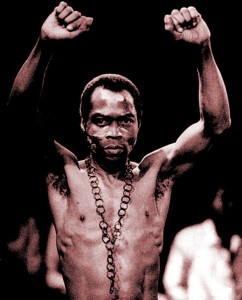 "It wasn't just his music that made Fela famous but his views as well. He preached for democracy over dictatorship and his music gave a voice to millions in Nigeria who were powerless in politics," his son Femi Kuti once said.
"He was truthful, he stood his ground, he never compromised, even at the risk of his life, and I think that's really what people admired." .
He added, "He never for one second thought of compromising or dropping his ideas. I saw him many times stand in front of the soldiers and say 'shoot me, kill me' and we all feared for his life many times."
However, 21 years after his death, on August 2, 1997, Fela's legacy continued to live on, in his songs. Yet, his heritage is also carried on by the people who he touched with his music like popular American-based Afro-beat singer, Sistah Iminah.
Iminah described Fela's dedication to the total liberation of the black race as ' a true inspiration.' Celebrating Fela's 80th birthday on Instagram, she wrote, " Few people can withstand the persecution he and the entire Kalakuta republic endured. It's amazing truly, when you understand how this man fought on every level, his family fought on every level, his mother was even killed, entire empire burned down, he was beaten, tortured, jailed, slandered by the Nigerian government (on behalf of colonialism) yet his spirit has risen supreme. You can't think of Nigeria without thinking of Fela. You can't think of Africa without thinking of Fela. The more I've listened to his music, studied his life, felt his spirit and been blessed to connect with his family and comrades I've been able to inner-stand this underground spiritual game. Music is the weapon of the future." The Afro-diva, also urged musicians all over the world to use their voice, power, energy and influence for the holistic liberation of their our people.
Fela's songs such as 'Zombie', 'International Thief Thief' (ITT), 'Upside Down', 'Coffin for Head of State' and 'Observation is no Crime' were direct attack on the Nigerian government as well s other corrupt officials back in the time.
Westsydelifestyle wrote, "The king lives on! Afro-beat lives forever! Your prophecies about Africa taking over the world shall continue to manifest! We shall contribute a great deal to this. We grew listening to You and got our style influenced by your originality. We are proud to remind you that your legacy lives on and the streets are still safe, we pledge to keep guarding it."
For Remi Adekoya, former Political Editor of the Warsaw Business Journal, Fela's "lyrics were scathing denunciations of Nigeria's socio-economic reality. He focused on corruption, abuse of power, mental emancipation from colonialism and the need for Nigerians to stand up for their rights.
"His major weapon of criticism was his music, which he christened 'Afro beat'. A firm believer in socialism and Pan-Africanism, Fela was a passionate supporter of human rights, and many of his songs- which were also known as 'yabis'- were sarcastic, dark and full of verbal abuse. In most cases, his songs were direct attacks on Nigeria's military government in the 70's."
In 1977, following the government's attack on his home, Kalakuta Republic, Fela released "Sorrows, Tears and Blood." In the lyrics noted Adekoya, "Everybody run, run, run/everybody scatter, scatter/Some people lost some bread/Some people just die … Them leave sorrow, tears, and blood/them regular trademark", his words were indicting and blunt, affirming the army's reign of tyranny and terror."
Fela did not only criticise the political setting in Nigeria, he also faulted the educational system of the country. Speaking in a recorded interview replayed during the week on Channels Television programme: 'The Chat,' anchored by veteran broadcaster, Mani Onumonu, Fela advocated the natural education in Africa. According to him, " Our children need education. They need natural education. If there's any country in Africa that wants to promote education, it's must be natural and there must an avenue for the understanding of natural education. It's not that kind of education that I must be like my father." Fela displayed a high level intolerance against all forms of oppression and through his music gave Africans reasons to be proud of their culture. However, in many other ways, Fela took his social activism further than the microphone, portraying his radicalism on other platforms apart from the stage.
Talking about his relationship with his children, Fela said "When I born my pikin, I no wetin I born. Femi is now playing at the Shrine and everybody is enjoying his music. And he's pulling the crowd, and that's good for him. I don't have time to teach anybody music. I am a spiritualist. I helped him in education and he didn't want to go to school again, all well and good. I asked him to join my band. Today, look at what that boy has done to himself, not because he's my son. He didn't go to school. I gave him a simple advice, know your country, know your continent, know the history of your people and know why your people are like this. And move on…"
Meanwhile, appreciating the relevance of Fela's message in today's Nigeria, human rights activist, Mr Femi Falana SAN, has urged Nigerian presidential candidates seeking office in 2019, to listen to the late legendary musician's music,in order to get solutions to the nation's problems.
Speaking at the 2018 Felabration tagged "Fela @80: Overtaking Overtake", at the Fela debates titled: "African Leadership in the Millennium" in Lagos, the renowned lawyer said that the late Afro-beat king had foreseen Nigeria's problems and that most of Nigeria's problems and challenges already have proffered solutions to them in Fela's music. "I want most of these presidential aspirants to listen to Fela's music very well. That's where they can find solutions to most of our problems. Our country is rich as Fela sang in his music, but our people are still hungry and poor; you must understand our society before you can lead us," Falana said.
Indeed, between his distinctive message, his unforgettable songs, and his commitment towards liberating his people from the stronghold of military dictatorship then, Fela would forever be memorialized as a proponent of democracy, an advocate for truth and justice. It was on this premises that he launched his political party- Movement of People,MOP, in 1979, with over 100,000 people reportedly present at Tinubu Square to show their support and loyalty for the 'black president'. According to Fela then, he created MOP in order to clean the society like a mop. He put himself up as the presidential candidate for about 10 years, though his campaigns were repeatedly blocked by the army. 21 years after his death, Fela lives on. His music, art, life, and legacy are celebrated every year at a week-long event tagged 'Felabration'.
TESTIMONIES:
Fela left Nigeria as a highlife musician, returned as jazz musician —Benson Idonjie, former manager
Fela's friend and former manager, Benson Idonije, veteran broadcaster and author of ' Dis Fela Sef: The Legend' is the most credible chronicler of Fela's sexual escapades and tempestuous career as a musician and man of the world. Idonije was with Fela from the beginning till the end of his career as a musician, politician and human rights activist. Fela's great musical creativity endeared him to Idonije while Benson's love of jazz music as a producer in Radio Nigeria cemented their relationship.
As  Fela's confidant, Idonije became the power behind Fela's creativity. And Fela's respect and trust for an elder brother gave Idonije access to every facet of Fela's life. In this interview with veteran broadcaster, Mani Onumonu, on Channels Television, 83-year-old Idonije recounts the thrilling story of his relationship with Fela, revealing how the Afro-beat king left the shores of the country as a Highlife musician but returned home rich in jazz music.
How we met
I met Fela in 1963. I had known him by reputation through his mother two years before 1963. In 1961, the mother came to the broadcasting house with two singles he recorded with the London tradition of the Koola Lobitos. I collected these singles and was playing and enjoying them. They were jazz influenced.
He returned to the country in 1963, when I was presenting programme called 'Jazz Club' every Thursday night with Radio Nigeria. He had listened to my programme for about two months and on that fateful night, he wanted to find out the man behind the microphone. He met me and introduced himself as Fela Ransome Kuti. He told me that he liked my programme and he stormed the broadcasting house with a white label album of his jazz music. We knew that he was playing highlife in London and toward the end of his stay there, he began to play jazz.
But before he left for London, he was playing piano with Victo Olaiya among others. So, he left the country as a highlife musician but by the time he was returning home, he transformed into a jazz musician. He formed the Fela and the Highlife Breakers, which metamorphosed into the Koola Lobitos. So, introducing him into the programme, I played a few tracks from the album he brought and he told me how the songs were recorded. By the time, he left the broadcasting house, he was pleased with himself because he was surprised that there was somebody who knew so much about jazz music. That was how we met and became friends. Thereafter we formed a jazz group called Fela Ransome Kuti Quintet.
His mother's advice
I was the manager of Jazz Quintet. But in 1965, the Nigerian version of the Koola Lobitos was born. Fela's mother had just visited Lagos, and she left a day after for Abeokuta. He invited us to Abeokuta, and when we got there, she welcomed us and said to Fela that this music you are playing,I am enjoying it, but it wouldn't sell because it's not commercial. She told him to go back to the music he was playing back in London, which is highlife. We listened to her with rapt attention and on reflection, Fela said he could infuse highlife with traditional elements and still play jazz. That was how the Jazz Quintet transformed into Koola Lobitos in Nigeria in 1965. However, to reconstitute the Koller Lobitos, I went in search of new musicians at the Western Hotel in Mushin, where Adeolu Akinsoya and Tonie Allen were playing . Also, Obi Okojie was with the band. I got them to join the new band. Allen was playing drums, while Obi Okojie and Akinsoya were playing bass guitar and Konga respectively. Also, there was Isaac Olashuba who was a saxophonist. He just returned from Abidjan and wanted to join Ejekota in Ibadan. He hailed from Ondo State and he had to drive straight to Ondo to get him to join the band .
Creator of Afro-beat music
Fela was the creator of his own brand of music. Afro-beat is African beat. If you play highlife with a fusion of any sound you can call it anything. But the creator of the brand of music that was influencing this generation of musicians was Fela Anikulapo Kuti. Afro-beat is an infusion of highlife, African music and jazz. Although not technically jazz, it also incorporates many elements of jazz including swing, syncopation and improvisation.
How Afro-beat genre was born by Odion Iruje, Fela's producer
Sharing his own experience, on the Mani Onumonu programme, Fela's producer then, Odion Iruje narrated how the Afro-beat genre was created. His words, " While Fela was in London, he released some songs. When he returned to Nigeria, he was looking for a record company. When he came up with Afro-beat he wanted to record it with a multinational company. So, when I told the then Managing Director of ' My Quest' he said, he didn't want Fela's problem. But while we were strolling towards the backyard, we saw Fela at the gate. At that point, I said to him, this is the third time Fela would be here, let us listen to him. The album he wanted to release then was ' Jeun Koku' and I happened to be the producer of the song. That was how Afro-beat was born.
Fela was not interested in what his children were doing —Senu Kuti
Also, speaking on the same programme, Fela's son, Senu Kuti shared his memorable experience with Fela, recalling however, how he started singing under the tutelage of his father.
Between Fela and his children
While I was growing up, Fela was at his mixed-point. He was always at home. He never stepped out expect when he was going to the Shrine. And each time he hit the Shrine at middle of the night, I was always there with him.
Encouraging his children to go to school
I wouldn't say that my father didn't want to train his children. But he never cared about our education (academics), even when he was ready to take it up as his responsibility. If you wanted to go to school, he would pay your school fees, send you to school. But he was not interested in what you were doing. And as an adult today, I agree with him because the education system in African is indoctrination and not education.
What Afro-beat means to me
I hate to hear the young artistes say that they are the new Afro-beat stars, which means that Fela's Afro-beat is now old. I see that as insulting. My own heritage is old and theirs is the new Afro-beat? Afro-beat is ever lasting.
How I began to sing
I joined Fela on stage and told him I wanted to sing. He asked me if I could sing well, and I replied in the affirmative. He said I should sing and I started singing his favourite song, " Sorrow, Tears and Blood." He said it's okay, when you get to Lagos, you start rehearsing with my band.
Leaving Egypt 80 band
For the fact that Fela was no more, was no reason for that musical institution to be shut down. We were all young then and the mistakes have been made. All that is not only just behind me, but also the entire family.
Source: https://www.vanguardngr.com/2018/10/fela-how-his-mother-changed-his-music/