Manchester United have been fined a total of 15,000 euros (£13,200) by UEFA for the late kick-off to their Champions League match against Valencia earlier this month caused by the hosts being caught in traffic.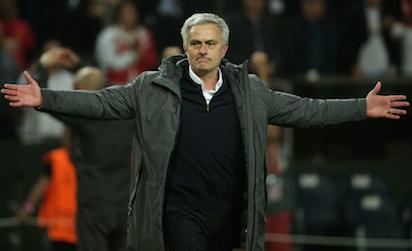 UEFA's disciplinary arm fined United 5,000 euros for the late arrival of the team bus, and a further 10,000 euros for the late kick-off, while United manager Jose Mourinho was also warned over the delay.
UEFA orders 'further investigation' of PSG over financial fairplay
United arrived at Old Trafford less than 45 minutes before kick-off on October 2 and had to ask Slovenian referee Slavko Vincic to delay the start of the game by five minutes.
Mourinho blamed the delay on local police for not providing an escort for United's team bus, but police officials said the club knew well ahead of time no such service would be provided and had time to make the adequate arrangements.
"We left the hotel at six o'clock, hoping that 30 minutes would be enough, which normally it is, but this time the police refused to do an escort so we came by ourselves," said Mourinho after the match which ended in a 0-0 draw.
"We took from the Lowry Hotel, 75 minutes and UEFA were nice, the referee was nice to allow us to start the game five minutes later because we at least need half an hour to be prepared, but it was not a problem with the club organisation."
Source: https://www.vanguardngr.com/2018/10/man-utd-fined-mourinho-warned-by-uefa-over-late-valencia-kick-off/