By Emeka Mamah
Enugu —Governors and other leaders of the Peoples' Democratic Party, PDP, in the South East zone stirred controversy last week when they rejected the choice of the former Governor of Anambra State, Mr. Peter Obi as the running mate to the Presidential candidate of the party in the 2019 general elections, Alhaji Atiku Abubakar.
Less than 24 hours after Atiku announced Mr. Obi as his vice presidential candidate on October 12, 2018, the PDP leaders met at the private residence of a major political actor in Enugu and rejected Obi's choice to the chagrin of other political stakeholders.
Atiku and Obi would tackle incumbent President Muhammadu Buhari and Vice President Yemi Osinbajo of the All Progressives Congress, APC, at the polls.
The leaders raised objections over Obi's choice saying that he was chosen and announced without their knowledge. They said that they felt slighted that they knew about Obi's choice through the social media. But their action, we gathered, was not against Obi but against Atiku for not consulting them.
The Chairman of the South East Governors' Forum and governor of Ebonyi State, Chief David Umahi, who spoke to reporters after the meeting however said that Abubakar should have met with South East leaders over the choice of his running mate. Umahi's initial reaction to Obi's choice was also, very scathing but a lot of people were not surprised as the governor had developed soft spot for APC since the EFCC sealed his hotel over allegations that N400 million released by the detained former National Security Adviser for the 2015 general elections was used in building the edifice. He has since denied any wrong doing.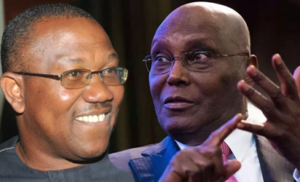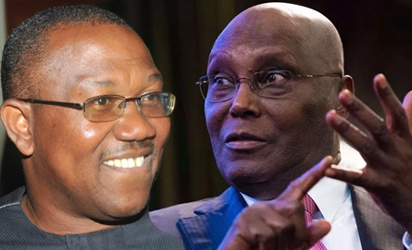 Obi's nomination receives standing ovation at Igbo confab in USA
However, Obi's nomination was  reportedly received with a standing ovation during the recent conference of Anambra State    Association in the United States of America, ASA –USA, held in Chicago.
Anambra State president of Ohanaeze Ndigbo, Chief Damian Okeke, told reporters in Awka yesterday that Anambra people in America were delighted at the choice of Obi, who, as the governor of Anambra State for eight years, collaborated well with ASA –USA in the execution of many projects in the state.
"It is heart-warming to state that in faraway Chicago, USA, where I attended the just concluded ASA-USA annual conference, the news of the choice of Mr. Peter Obi as the Vice Presidential candidate was received with standing ovation and the World Igbo Congress has clearly declared support for the joint ticket," the Ohanaeze President said.
According to him, though Ohanaeze is not a political organization, it is still committed to the political future of Ndigbo and the South East geopolitical zone, adding that the period of election was not the right time to play to the gallery, but the time to face the real facts.
He said although there were some Igbo presidential flag bearers of some political parties, supporting them would be like riding a bicycle to Lagos, while supporting the big parties with Igbo interests would be like flying to Lagos in an aero plane.
He said: "The journey to 2019 has started and is gathering momentum. Ohanaeze Ndigbo has earlier made its stand clear in line with the South East summit held on 21′ May 2018 at Ekwueme Square in Awka to support every effort towards restructuring of the country to give every zone a sense of belonging and promote equity, justice and fairness that would give Ndigbo and every other part of the country a sense of belonging.
"In line with this, Ohanaeze Ndigbo resolved to support any political party and candidate with a manifesto of actualizing the restructuring. This is why Ohanaeze Ndigbo Anambra State chapter, is declaring total support for the choice of Mr. Peter Obi, the former governor of the state as the running mate to the PDP presidential candidate, Alhaji Atiku Abubakar.
"We want to congratulate the PDP and its candidate for the wise choice of our own son, Peter Obi, which has gained worldwide acceptance and commendation.
"We equally congratulate Nigerians for voicing out their general acceptance of the joint ticket, irrespective of party affiliations, showing that their acceptance cut across political, religious and tribal divides.
"I want to point out that the so called dissenting voice in the South East will definitely work with entire Igbo to achieve the set agenda. We also want assure Nigerians that there is nothing to lose sleep about as Igbo are strongly united towards restructuring and repositioning the country to take its rightful position in Africa as the giant and power house of the continent, as well as engender stable and progressive political culture for future generation.
"We also advise Alhaji Atiku Abubakar and the PDP to ensure that other key political positions are evenly distributed across the political zones of the country to carry everybody along."
Obi Represents What Nigeria Truly Needs In 2019
In its own reaction, the Association of South East Town Unions, ASETU, described the choice of Mr. Obi as the PDP vice presidential candidate, as good for the nation.
The group explained that Obi's maturity, level headedness, integrity and experience, represents what Nigeria truly needs in this time of economic crisis given his sterling performance during his tenure as governor of Anambra State.
National President of ASETU, Chief Emeka Diwe, who made this known in a statement in Aba, said that the entire town unions in the South East are in agreement that Obi would add great value to the PDP presidential ticket.
"We are not also in doubt, and so we make bold to say, that in choosing Peter Obi, a new dawn of national rebirth has commenced, and we will lend our support to it, whole and entire. We recall Obi's sterling performance as Anambra State governor and turned around the fortunes of the state. We have no doubt that as a man of excellence, he will bring the Midas touch to the office of the Vice President.
"Peter Obi brings something refreshingly different to bear in governance. He is of the stock of uncompromisingly credible Nigerians, dedicated to refined values, and his understanding of and commitment to the economic development of Nigeria will greatly usher in a prosperous Nigeria," Diwe added.
The South East town unions urged some Igbo political leaders opposed to Obi's choice to sheath their sword in the overriding interest of the country.
Former Secretary to Anambra State Government, Mr. Oseloka Obaze who also reacted to the decision of the meeting said, it had "left some people a little bit disenchanted because they believe there was no transparency.
"We must understand that never in the history of this country, even during the defunct National Party Nigeria, NPN and the Nigerian People's Party, NPP, had a candidate ever consulted on a zonal basis. According to him, candidates chose their running mates and announced same. I do not understand why our case has to be different, apparently some people want to play games."
We'll join forces with Atiku/ Obi, Igboezue
The Igboezue  International Association of Nigeria the Diaspora, IIAND, yesterday called on the Ebonyi state Governor Chief Dave Umeahi and the Peoples Democratic Party, PDP stakeholders agitating against the choice of Mr. Peter Obi as the running mate to Alhaji Atiku Abubaka the party's presidential candidate to desist from such act and join forces with welling meaning Nigerians to support them.
The group expressed surprise and sadness that people who are supposed to be calling on the Igbo based on their positions in Nigeria as sitting Governors and National Assembly members to support Obi and Atiku were opposing their joint ticket.
While appealing to the anti Atiku/Obi's ticket in the South East to sheath their swords, and support them like other people of South East, IIAND described their tickets as the best political choice ever made by any politician in Nigeria.
A statement jointly signed by its National President, Chief Pius Okoye; National Secretary, Chief Evarest Ezihe and National Publicity Secretary, Comrade Charles Amafor, described Obi's rejection as the height of unpatriotic acts to South East in particular and Nigeria as a whole.
"We the Igboezue International Association Nigeria and the Diaspora, see the choice of Alhaji Atiku Abubakar's choice of Mr. Peter Obi as a good step in a right direction and a combination that will bring out Nigeria from its current precarious situation.
"The former Vice President took a very bold step, and the choice he made was the best that has happened in the Nigeria in recent times; picking a man with track records of wealth, experience and credibility which the nation need at this time was an unmatchable choice.
"Alhaji Abubakar, being a former Vice President for eight years and Mr. Obi, a former Governor of Anambra state also for eight years… the two being astute technocrats and business men can take Nigeria to the next level of development it has not witnessed before. Infact, the former Vice President has shown that he is a political mathematician.
"We, therefore, categorically state that we condemn the alleged opposition by South East Governors and the PDP members from the zone to Obi's choice. Their opposition is not in the interest of the Igbo nation, but for their selfish ends. We therefore demand that they retrace their steps before they kill their political carriers."
Former Deputy Speaker, House of Representatives and governorship candidate of the PDP in Imo State, Chief Emeka Ihedioha, described the choice of Obi as most deserving.
"The choice of Mr. Peter Obi as the PDP Vice Presidential candidate is fitting and most deserving", Ihedioha said.
Ihedioha spoke through his Media Aide, Mr. Chibuike Onyeukwu, and appealed to Ndigbo to accept Atiku's choice, and work assiduously towards wrestling power from the APC at all levels.
"I am positive that Mr Peter Obi is fit for the post. He deserves it. I am certain that he will add a lot of value to the ticket. We are optimistic and indeed looking forward to working with him, to reposition and deliver the party in the general elections," Ihedioha said.
He not only reiterated the unalloyed support of Imo people, to Alhaji Atiku Abubakar, but also enjoined Nigerians at large, "to rally round him and our great party, PDP, in our quest to salvage our dear country."
Reacting also, a youth leader in Owerri, Mazi Ikay Ukaegbu, maintained that those who are proposing that the running mate should have been picked from another South East state, missed the point.
"Granted that the late former Vice President of Nigeria, Dr. Alex Ekwueme, hailed from Anambra State, the big questions are: Was he qualified to hold the post? Did he shame Ndigbo while in office? What does Peter Obi's curriculum vitae look like? I don't think that we have forgotten so soon, the record he left behind when he served as Governor of Anambra State", Ukaegbu reasoned.
Generally, there had been jubilation in most parts of Igbo land following the nomination of Mr. Peter Obi as the vice presidential candidate of the PDP, for the 2019 general election, despite opposition by the group led by the governor of Ebonyi State, Chief Dave Umahi.
Shortly after the nomination was made public, many people trouped out to discuss the development, with many saying emphatically that with the nomination, Alhaji Atiku Abubakar would secure overwhelming votes across the country because of Obi's antecedents as a great manager of men and resources, which placed Anambra above other states in many areas of human and economic considerations during his tenure as governor.
At the Onitsha Main Market, many traders rang bells in their lines and prayed for God to be on the side of Atiku and Obi during the election. Mr. Ambrose Nwaforka, a dealer on ladies' wears said Nigeria stood to benefit from Obi's wealth of knowledge in good governance, going by what he did in Anambra State for eight years. He said though they have been praying daily for Nigeria in distress, traders would henceforth add Peter Obi in their prayer point for God to guide him and the PDP candidate, Atiku.
Also, the forum of former local government chairmen in Anambra State applauded the choice of Chief Peter Obi as the vice presidential candidate of the PDP, recalling that they were elected during the reign of Obi as governor.
In a congratulatory message signed Mr Azubuike Iloh, Mr Henry Ezenwa and Chief Okey Enekwe, who are the coordinator, vice coordinator and member respectively, the group said the choice of Obi was an indication that the party consulted widely and settled for the best among equals shortlisted candidates.
According to them, PDP has not only demonstrated that they were looking for competence, but also a party loyalist who would be a great asset to the administration.
They said: "We, the association of elected former local government chairmen who served under Obi welcome the announcement of his choice as vice president candidate to Alhaji Atiku Abubarka with delight.
"As a governor of Anambra, Obi took governance to the level of excellence as all sectors functioned very efficiently. Up till today, we are still reaping bountifully from his legacies.
"He is good technocrat, who performed wonderfully in the private sector as director of banks and a number of business outfits.
"Obi is also a good politician and we have no iota of doubt that he will add huge value to the chances of PDP in the general election and also complement his principal to a large extent," they said.
They also called on Nigerians, especially people from the South East, to support the ticket and vote for PDP in the general election. "The PDP has made its choice, we congratulate the party and call on all Nigerians to support Atiku/Obi in 2019," they said.
Similarly, members of Atiku Leadership Development Initiative, ALDI, a support group of the former Vice President, said the nomination of Atiku and Obi was a victory for the Nigerian masses.
The director-general of ALDI, Mr. Dominic Nwuzor said that both Atiku and Obi had what it takes to move Nigeria forward, going by his track record of achievements.
Nwuzor said: "Their nomination marks the beginning of development for Nigeria because they are men of vision. Their victory is also a victory for African development because Nigeria is the giant of Africa. When Nigeria develops, Africa also develops. They are credible, competent and have the capacity to do the job."
A Nollywood star, Mr. John Okafor, aka Mr. Ibu, who is the director of entertainment of ALDI said with Atiku and Obi victory, Nollywood had got a partner in the film industry.
"In 1979, Alhaji Shehu Shagari did not consult anybody before choosing late Dr Alex Ekwueme as his running mate. In 2007, Umaru Yar'Adua did not consult the South –South PDP leadership before picking Goodluck Jonathan.    Rather, after Peter Odili was blocked as presidential candidate, it was James Ibori that YarAdua wanted as his running mate.    It was the trio of Ahmadu Ali, Olusegun Obasanjo and Tony Anenih who decided, without any consultations with the region on Jonathan in order to block some PDP governors who were scheming to nominate another person after the rejection of Peter Odili as presidential candidate.
"In these three instances I mentioned, the respective regions embraced rather than repudiate or reject their sons. Will the turn of South East be different?    Are we to understand that after we have waited for 35 years to get a VP slot on a PDP ticket that is a winning combination, or are about to waste it on account of our not being consulted at the zonal level?    Would we prefer the VP slot go elsewhere and wait another 35 years?
"How do we explain our malign attitude when outsiders have accepted one of our sons, but we are the ones that seek to tag him an outcast and therefore unacceptable to the nation? What is it we seek at the bottom of the pot but fish?
"The Biafra war ended 48 years ago and the Igbo nation is yet to recover fully.    Now a historical opportunity beckons; an opportunity to actualize the main-streaming of the Igbo nation, and we are bickering as to which of our sons will lead the charge.    Our disposition, I dare say is myopic and defeatist.
"If we lose the present opportunity to produce the Vice President due to the whims of a few among us, Ndigbo will never recover the past. And history will be unkind to us all, myself included. Discretion and circumspection is the word!    Let those who have tongues count their teeth correctly," they added.
Source: https://www.vanguardngr.com/2018/10/2019-ihedioha-igboeze-other-igbo-groups-back-atiku-over-obi/