Shahid Khan has withdrawn his controversial offer to buy London's Wembley Stadium, the American businessman announced on Wednesday.
The Football Association, Wembley's current owners, had come under fire from many within its own ranks for a plan to sell.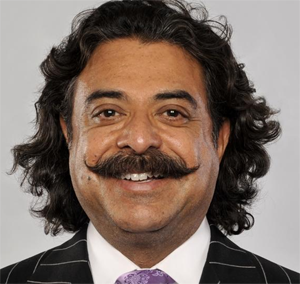 English football's governing body had also investigated allegations of "systemic corruption" surrounding the proposed sale.
Khan — the owner of London-based Premier League side Fulham — offered to buy the stadium for £600 million ($800 million), in a deal ultimately worth £900 million to the FA, with the money to be reinvested in grassroots football.
And while senior FA figures were happy for the sale to go through, that lack of support from the wider game, evident at a meeting of the FA's governing council last week, was a key factor in Khan's decision to pull out.
"At this moment, following last week's FA Council hearing, it appears there is no definitive mandate to sell Wembley and my current proposal, subsequently, would earn the backing of only a slim majority of the FA Council, well short of the conclusive margin that the FA chairman (Greg Clarke) has required," said Khan.
"The intent of my efforts was, and is, to do right by everyone in a manner that strengthens the English game and brings people together, not divides them," added Khan, who had also suggested his NFL franchise the Jacksonville Jaguars could increase the number of games they play at Wembley.
Meanwhile Khan left open the possibility he could launch another bid.
"I cannot rule out revisiting the opportunity at another time when perhaps the Football Association family is unified in its views on the opportunity," he explained.
– 'Disappointing development' –
Khan later issued another statement in the United States, regretting the collapse of the deal but underlining his determination to keep the Jaguars playing in Jacksonville.
"The local revenues we would have generated opening Wembley throughout the year would have been invested in our continued efforts toward building and maintaining a sustainable NFL franchise in Jacksonville," he said.
"While this is a disappointing development, we will continue to emphasise London and the role the UK plays in ensuring a promising long-term future for the Jaguars in Downtown Jacksonville."
FA chief executive Martin Glenn, a strong supporter of the sale, said: "Mr Khan believed that his offer to buy Wembley Stadium would release funds to help improve community football facilities in England and that it would be well received by all football stakeholders."
Glenn, however, added: "At a recent meeting with Mr Khan he expressed to us that, without stronger support from within the game, his offer is being seen as more divisive than it was anticipated to be and has decided to withdraw his proposal."
Concerns about whether the FA were selling the stadium, which cost £757 million to rebuild, too cheaply, its ability to invest the money in the way it promised to and fears over losing control of a 'national asset' to a private owner, all appear to have combined to scupper the sale.
The FA said last week that they were investigating claims by former Fulham assistant director Craig Kline saying he and Khan's son Tony had a "paper trail" of evidence about "fraud, child endangerment and exploitation" in the game.
Shahid Khan refuted the allegations made by Kline, who was sacked by the club last year after his relationships with other senior figures broke down.
"This is nothing more than the same ongoing nonsense and bogus claims made by a former employee who left the club in 2017," said his spokesperson.
Source: https://www.vanguardngr.com/2018/10/fulham-owner-khan-withdraws-offer-to-buy-wembley-2/