By Vincent Ujumadu
AWKA—THERE has been jubilation in most parts of Igboland following the nomination of former governor of Anambra State, Mr. Peter Obi, as the vice presidential candidate of Peoples Democratic Party, PDP, for the 2019 general election, despite opposition by a group led by the governor of Ebonyi State, Chief Dave Umahi.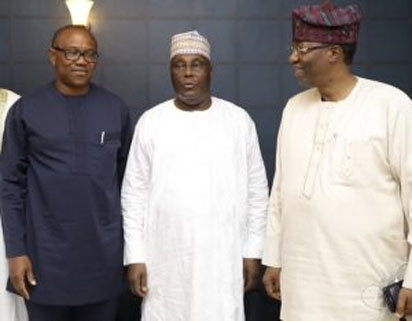 Shortly after the nomination was made public, many people trouped out to discuss the development, with many saying emphatically that with the nomination, Alhaji Atiku Abubakar would secure overwhelming votes across the country because of Obi's antecedents as a great manager of men and resources, which placed Anambra above other states in many areas of human and economic considerations during his tenure as governor.
At Onitsha main market, many traders rang bells in their lines and prayed to God to be on the side of Atiku and Obi during the election. Mr. Ambrose Nwaforka, a dealer on ladies' wears, said Nigeria stood to benefit from Obi's wealth of knowledge in good governance, going by what he did in Anambra State for eight years.
He said though they have been praying daily for Nigeria in distress, traders would henceforth add Peter Obi in their prayer points for God to guide him and the PDP candidate, Atiku.
Also, the forum of former local government chairmen in Anambra State applauded the choice of Obi, recalling that they were elected during the reign of Obi as governor.
In a congratulatory message signed by Mr Azubuike Iloh, Mr Henry Ezenwa and Chief Okey Enekwe, who are the coordinator, vice coordinator and member respectively, the group said the choice of Obi was an indication that the party consulted widely and settled for the best among equals shortlisted candidates.
According to them, PDP has not only demonstrated that they were looking for competence, but also a party loyalist who would be a great asset to the administration..
They said: "We, the association of elected former local government chairmen, who served under Obi, welcome the announcement of his choice as vice president candidate to Alhaji Atiku Abubarka with delight.
The group said: "As a governor of Anambra, Obi took governance to the level of excellence as all sectors functioned very efficiently. Up till today, we are still reaping bountifully from his legacies.
"He is good technocrat, who performed wonderfully in the private sector as director of banks and a number of business outfits.
"Obi is also a good politician and we have no iota of doubt that he will add huge value to the chances of PDP in the general election and also complement his principal to a large extent."
The former chairmen said the emergence of Atiku and Obi as presidential and vice presidential candidates was an formidable ticket that could win the general election, adding that the pair  had the capacity to set the nation on the pedestal of economic recovery, given their rich public and private sector managerial experiences.
They also called on Nigerians, especially people from the South East, to support the ticket and vote for PDP in the general election.  "The PDP has made its choice, we congratulate the party and call on all Nigerians to support Atiku/Obi in 2019," they said.
Similarly, members of Atiku Leadership Development Initiative (ALDI), a support group of the former Vice President, said the nomination of Atiku and Obi was a victory for the Nigerian masses.
The director-general of ALDI, Mr. Dominic Nwuzor said that both Atiku and Obi had what it takes to move Nigeria forward, going by his track record of achievements.
Nwuzor said: "Their nomination marks the beginning of development for Nigeria because they are men of vision.  Their victory is also a victory for African  development because Nigeria is the giant of Africa. When Nigeria develops, Africa also develops.  They are credible, competent and have the capacity to do the job."
A Nollywood star, Mr. John Okafor, aka Mr. Ibu, who is the director of entertainment of ALDI said with Atiku and Obi victory, Nollywood had got a partner in the film industry.
But while most Igbo were jubilating for Obi's nomination, some PDP leaders summoned an emergency meeting in Enugu during which they faulted the choice. Their grouse, it was gathered, was that they were not consulted before the nomination was made.
However, Mr. Oseloka Obaze, the governorship candidate of PDP in the November 2017 election in Anambra State berated the PDP in the zone for its decision to publicly send a negative signal on an issue the party ought to be happy about. According to him, the nomination of Peter Obi was not the first time such a thing was done without having to consult the zone.
Going down memory lane, Obaze said: "On 6th October 2014, a  PDP delegation led by the Deputy Senate President, Sen. Ike Ekwerumadu and Chief Olisa Metuh, the then Publicity Secretary, who represented  the National Chairman of the PDP, Mr.  Adamu Muazu visited Peter Obi at his residence at 22 Niger Drive,  Onitsha to ask him to join our great party, PDP. The  visit was as a result of the resolution by the entire South East to pay him a vist and persuade him to join the PDP for more meaningful contribution to national affairs.
"Peter Obi told the PDP bigwigs that he was humbled by the visit. Thereafter, Peter Obi joined PDP. What changed? Is Peter Obi not one of us? We are talking of zonal consultation on the vice presidential ticket. When did it start? Or is this meant to be the first?
"In 1979, Shehu Shagari did not consult South-East NPN before choosing Alex Ekwueme as his running mate. Indeed, Ekwueme, who was then resident in London, had been introduced to Shehu Shagari by the late Sir Joe Nwankwu."
" In 1999, Olusegun Obasanjo did not consult the North East PDP  leaders before he selected Atiku Abubakar. Indeed, Atiku having won the gubernatorial election in his  state,  was driving to Adamawa on the fateful day when he got a call to return to Abuja to meet Obasanjo and become his running mate.
"In 2007, Umaru Yar'Adua did not consult the South –South PDP leadership  before picking Goodluck Jonathan.   Rather, after Peter Odili was blocked as presidential candidate, it was James Ibori that YarAdua wanted as his running mate.   It was the trio of Ahmadu Ali, Olusegun Obasanjo and Tony Anenih who decided, without any consultations with the region on Jonathan in order to block some PDP governors who were scheming to nominate another person after the rejection of Peter Odili as presidential candidate.
"In these three instances  I mentioned,  the respective regions embraced rather than repudiate  or reject  their sons. Will the turn of South East be different?   Are   we to  understand that after we have waited for thirty-five years to get a VP slot on a PDP ticket that is a winning combination, or are about to waste it on account of our not being consulted at the zonal level?   Would we prefer the VP slot go elsewhere  and wait another 35 years?
"How do we explain our malign attitude when outsiders have accepted one of our sons, but we are the ones that seek to tag him an outcast and therefore unacceptable to the nation? What is it we seek at the bottom of the pot but fish?
"The Biafra war ended 48 years ago and the Igbo nation is yet to recover fully.
Now a historical opportunity beckons; an opportunity to actualize the mainstreaming of the Igbo nation, and we are bickering as to which of our sons will lead the charge.   Our disposition, I dare say is myopic and defeatist.
"If we lose the present opportunity to produce the Vice President due to the whims of a few among us, Ndigbo will never recover the past. And history will be unkind to us all, myself included.  Discretion and circumspection is the word!   Let those who have tongues  count their  teeth correctly."
Source: https://www.vanguardngr.com/2018/10/despite-pockets-of-opposition-theres-jubilation-in-s-east-over-obis-nomination/