By Dirisu Yakubu
ABUJA – The Peoples Democratic Party, PDP, governorship candidate in Lagos state in the 2019 general elections, Jimi Agbaje has denied any rift in his relationships with Chief Bode George, saying the latter remains the leader of the party in the state.
Agbaje who stated this in an interactive session with journalists at the party's headquarters on Tuesday also said time has finally come for the PDP to reclaim Lagos for the first since the return to democracy in 1999.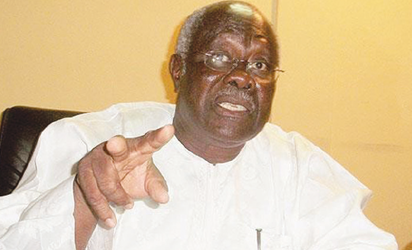 Asked to clear the air on his relationship with George, Agbaje said: "Chief George remains the leader of PDP in Lagos and I don't think anybody is going to doubt that. So, I don't know what you mean by a relationship. Very soon, as we start the campaign, you will see that there is nothing wrong in our relationship."
On the readiness of the party to beat the ruling All Progressives Congress, APC, in the state, the governorship candidate said, "This time around (2019), we intend to take over Lagos. The campaign for Lagos is set for us. It is clear to us that what Lagosians are looking for us is freedom from the vested interest that have gripped Lagos for nearly 20 years. We have a situation where it had been under the grip of one or two persons and we are tired of that.
"We believe Lagos is doing well compared to other states but it can do much better than is doing now but it is being crippled by vested interests. Things that could have been done better are being done in a different manner and that is slowing down the progress and that is what the campaign is set against.
Sex-for-mark caused by admission of academically weak students – Okebukola
"The Free Lagos campaign is a campaign that Lagos can be better and that the alternative can be a lot more better than it is today. The structure is being put in place and I am sure that at the end of the day, it is going to be victory for PDP in Lagos and at the centre and in most of the states that we lost," he added.
He also spoke on Moshood Salvador, the immediate past chairman of the party in Lagos who quit the party in controversial circumstances, saying "He left on his own. If you go alone, I don't know how that will affect the party in any way. If he was really someone that had a structure or followership, you will expect the followers to go with him but when you leave as one person, it means you are of no effect on the party.
"We have not felt anything with his departure and it will not affect us. We have not had defections from the PDP in the last few years.
He further bemoaned what he called the slow pace of development of the state which he attributed to "vested interests," adding that the state will be liberated in 2019.
"We have been doing our light rail now for about 12 years. Other cities and countries that started with us have finished their own. These are some of the issues of vested interests that I talked about. But we are saying Lagos must have light rail. How are we going to empower the youths? What education are giving them? We have to address those basic issues in terms of our youths," he stated.
Source: https://www.vanguardngr.com/2018/10/bode-george-remains-lagos-pdp-leader-agbaje/