By Ugochukwu Alaribe
ABA— For residents of Umuimo and  Umuaduru communities in Osisioma Ngwa council area of Abia State, Friday, October 12, was a day they may never forget in their lives.
It was a day over 200 persons were burnt to death while scooping fuel in an abandoned pipeline belonging to Pipeline and Products Marketing Company, PPMC, in the area.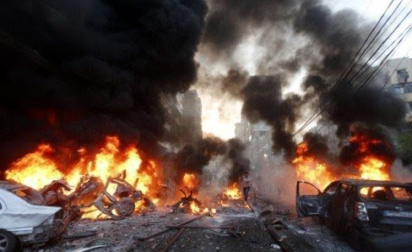 Property comprising buildings, motorcycles and other valuables consumed in the inferno are being estimated to worth over N100 million.
A day after the incident, over 30 persons who sustained severe burns are said to be receiving medical attention at different hospitals in Aba and environs.
However, according to the chairman of Osisioma Local Government Traditional Rulers Council, Eze Ikechukwu Chiavoghilefu, the number of casualties has been rising steadily as he disclosed that dozens of people that were badly burnt eventually died.
He specifically cited a particular health clinic where about 70 victims were taken to for treatment when the incident happened on Friday, saying in less than 24 hours over 30 of them died.
The monarch, who spoke when the Senator representing them at the National Assembly, Chief Theodore Orji, visited the affected communities to sympathise with the victims, insisted that the death toll has risen to over 200.
"About 70 persons were parked in the health clinic near my palace on the first day it happened and all of them have now died. Up to 150 have so far died," the monarch said.
Eyewitnesses told South East Voice that the inferno was ignited by some soldiers who rode two motorcycles to the scene. It was a gory sight as charred remains of human beings littered the scene and adjoining bushes.
Many families who live close to the abandoned pipeline lost their loved ones, including those who were far from the scene. Victims were burnt beyond recognition as the fuel spread to farmlands.
South East Voice learnt that the incident occurred at 1.30 am in an abandoned pipeline at Umuimo and Umuaduru villages in Osisioma Ngwa council area.
The pipeline was said to have been abandoned for about three years, but was suddenly used to pump fuel leading to heavy leakage of the product in the area. Residents of the area took opportunity of the leakage to scoop fuel, which they sold to the public until the explosion occurred.
It was a theatre of confusion as people tried to identify their relations who had stormed the area scooping fuel.
Journalists and sympathisers had a hectic time trying to access the area as they were stopped by some soldiers who barricaded the scene and ordered that no one should take pictures of the charred bodies until they were through with the search. The soldiers later brought a machine to pump water to the scene.
It was feared that some soldiers may have died in the inferno as some rifles were allegedly recovered from the scene, but this could not be confirmed as at press time.
A native of Umuaduru who gave his name as Sampson said he lost a cousin to the explosion and said his late cousin was warned severely not to go to the site of the leaking pipeline when the news broke out.
"People who died here are more than 50 in number. Some persons carried their people before the soldiers came. Many others died at Umuimo. One of my cousins died here. I was told his mother warned him not to go, but he left unnoticed with wheelbarrow and some gallons.
"When we heard about the fire, I first called everyone I knew, but when he could not be reached, I knew there was trouble. We are yet to identify him because of these soldiers who claimed they were looking for something and that everyone should stay away.
"The soldiers prevented those who lost their loved ones from going there because we learnt that some of their members who came to do the same thing my cousin came for were also burnt here.
"They removed their burnt colleagues very early in the morning, but still insisted that we must not remove ours because they were looking for something.
"They beat people with cutlasses and chased women away because of whatever they were looking for which most of us suspected must be the guns of their burnt colleagues, which they didn't want getting into the wrong hands."
Victims recount ordeal
A victim, Christian Nwanmuo, who survived the explosion with severe burns, said he came with his friends to scoop fuel from the pipeline and were returning for another round when the explosion occurred. The victim who is now receiving attention at a hospital in the city, said poverty led him to scoop fuel from the leaking pipeline.
"We were returning to scoop more fuel when the area exploded. Everywhere was on fire, but we were far from the scene. I was affected by the fire from the surrounding bushes. I was only saved because the container I was carrying had no fuel. I know it was dangerous to scoop fuel from the pipeline, but poverty led me to the act. I wanted to raise money to buy a motorcycle to start Okada business."
A pipeline guard, Chuks Uzoije, who lost a bungalow to the fire, blamed the PPMC for not heeding their calls to mend the broken pipeline.
He said: "Everything I laboured for in life was consumed by the fire. I now have only my uniform and my torchlight. Two of my tenants got burnt. I don't know if the people taken to the hospitals will survive. We have been complaining about the leaking pipeline, but the authorities were not interested in rectifying it. Now, people have been roasted."
Another man, whose wife, a nursing mother, was consumed in the fire, was seen throwing himself on the ground, but was held by sympathisers, as he kept shouting, 'where is my wife? Where is my wife?"
Counciil boss mourns
Speaking on the cause of the incident, Chairman of Osisioma Ngwa council area, Mr. Benjamin Mgbeahuru, who visited the scene as well as the hospitals where some survivors are still lying critically burnt, blamed the PPMC for using a pipeline they said was an abandoned one in pumping products without checking its ability.
He said: "We have invited the PPMC depot manager more than three times in our security meeting to give us some update on why we are having fire incidents every time along our pipelines, but he has ignored those invitations. This line they claimed is an abandoned line, but every time they pump products, it catches fire. We must get to the bottom of this time around.
"This is not the first time. PPMC and Federal Government are not helping us. They don't come to repair those lines. They claimed it is abandoned, but how do products go in there? This is a very sad period for Osisioma Ngwa LGA and Abia in general."
Source: https://www.vanguardngr.com/2018/10/how-pipeline-fire-roasted-over-150-in-aba/