By Nwabueze Okonkwo
ONITSHA— Following the consistent ravaging of various communities in Anambra state by flood, men of Nigerian Navy attached to Odekpe Naval Outpost, Ogbaru near Onitsha, weekend, deployed three of its Epenal gun-boats for tour of the affected communities that were devastated by the current flooding in some parts of Ogbaru Local Government Area of the state.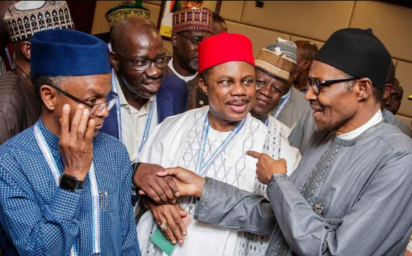 The journey which started from Marine Police terminal, Marine Road, Onitsha witnessed Governor Willie Obiano, some top state government functionaries and the Navy personnel led by its Ogbaru Outpost Commander, Captain Mohammed taking the lead.
The two-hour maritime journey which afforded Obiano an ample opportunity to have an on-the-spot assessment of the level of devastation in the area which is known as one of the food baskets of the state, the  personnel of the Nigerian Navy provided maritime security with three of its gun-boats as they toured Idemili, Okoti, Ogbakuba and other riverine communities in the area that were devastated by the natural disaster.
2019: Okowa advocates alternative source of funding for INEC
The journey, however, ended at Central School, Odekpe,  one of the Internally Displaced Person's, IDP camps  where Obiano addressed the victims in their large numbers.
The school compound, now IDP camp, also houses St. Patrick's Catholic Church, Odekpe but the compound of the Parish House was also submerged by the flood.
Gov. Obiano during the tour of the communities had instructed the villagers who are mainly dependent on farming to relocate to IDP camps scattered in the area as government was doing everything possible to provide their needs, including feeding and other basic necessities of life.
The governor was later led to the naval base through the water to ascertain the level of flooding in the premises of Odekpe Naval Base as the road leading to the base from Atani Road was also covered by the rampaging flood.
Obiano while interacting with the Navy Commander, Odekpe Naval Base, Captain Mohammed, pleaded with the officers and men to render more assistance to the flood victims and promised to donate more gun-boats to the naval base for its maritime operations.
Responding, Captain Mohammed disclosed that men of the Odekpe Naval base have been rendering security assistance to flood victims camped at Central School, Odekpe which is adjacent to the naval base.
The Naval officer who addressed the victims promised to beef-up security at the camp with his men. Some officials of the Nigerian Red Cross Society, NRCSW who spoke to newsmen, however, complained of Police absence in the camp.
The President-General , Odekpe Community, Hon. Vincent Okei who exchanged pleasantries with the Naval officer at the camp while interacting with the victims pleaded for more assistance from both the Federal and State Governments, stressing that the victims were in dire need of assistance in the camps at St. James Anglican Church Iyiowa-Odekpe,Central    School, Odekpe and the Council Secretariat in Atani.
Source: https://www.vanguardngr.com/2018/10/flood-navy-escorts-obiano-to-ravaged-anambra-communities-with-gun-boats/