By Monsur Olowoopejo
LAGOS—A Pan-Yoruba  Group, Yoruba Youth Forum,  YYF, Monday, commended former President Olusegun Obasanjo for forgiving  former Vice President, Atiku Abubakar in the interest of Nigeria, saying the decision has portrayed Obasanjo as a genuine leader.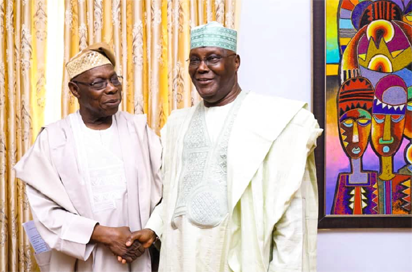 In a statement by its Chairman, Olusegun Abiodun Bolarinwa said that the action of the former President has shown that he still has the interest of Nigerians at heart.
He said: "We want to specifically thank former President Olusegun Obasanjo for finally accepting the apology of his former vice in the interest of Nigerians. Many Nigerian voted for APC because they thought the party will be able to improve their lives but today the party has made a mess of every sector of our national life. The economy today is in total mess. During the electioneering period President Muhammadu Buhari and his party, APC made promises which many of us believed.
"Some of us believed in those promises not because we were fools but because those promises came from Buhari, a man we once vouched for his integrity. But, today Mr. President none of those promises has been fulfilled. Nigeria has fared badly under President Buhari.
"We believe that Atiku Abubakar will perform better than Buhari having served in Obasanjo's government.  We are appealing to all sons anddaughters of Yoruba to rally round and support Atiku Abubakar as our next President come 2019."
Source: https://www.vanguardngr.com/2018/10/yoruba-youths-commend-obasanjo-for-endorsing-atiku/