By Omeiza Ajayi
ABUJA – The National Working Committee NWC of the ruling All Progressives Congress APC has nullified the reported suspension of one of its members, Comrade Mustapha Salihu by the North East zonal chapter of the party.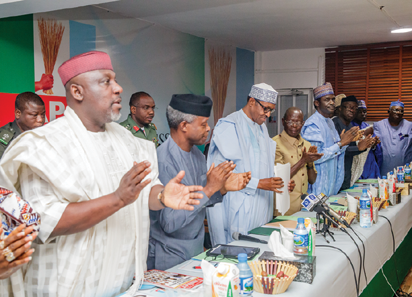 Newly appointed National Publicity Secretary of the party, Mallam Lanre Issa-Onilu in a statement declared that the zonal chapter does not possess the powers to suspend Mr Salihu who is the National Vice Chairman for the zone.
"Our attention has been drawn to the purported suspension of the All Progressives Congress APC National Vice Chairman, North East, Comrade Mustapha Salihu by the 'North East Zonal Office'.
"We state categorically that the purported suspension is a nullity as the 'North East Zonal Office' does not have such powers to suspend a National Officer. According to the Party's constitution, such powers reside with the National Executive Committee NEC.
"Whatever issues there might be, the party structure and constitution provides ample avenues for redress and dispute resolution.
"If the 'North East Zonal Office' is unable to achieve a resolution, the National Working Committee NWC can and will wade in the matter to achieve amicable settlement", the national leadership stated.
The zone had last week announced the suspension of Mr Salihu.
The resolution was signed by the zonal Secretary, Abubakar Sadiq Anita, Youth leader Kasimu Bello Maigari, Ex- officio Mamman Isah , Women leader Amina Manga and Organizing Secretary Shaibu Abdul Rahman Adam.
They said his offence bothered on his failure to summon meetings as and when due, contrary to Article 25(D)(1). They also alleged fraudulent handling of official documents and disharmony among members, contrary to Article 21A of the party.
Osun rerun: Seek redress in court if you disagree with outcome, Buhari tells contestants
Salihu had in the days leading to the primaries of the party vehemently opposed the decision of the national leadership to impose direct primaries on their state chapters.
Source: https://www.vanguardngr.com/2018/10/apc-nullifies-suspension-of-nwc-member/