Two Nigerian soldiers were killed and nine others wounded in two separate mine blasts in the northeast where troops are battling Boko Haram extremists, military and militia sources said Sunday.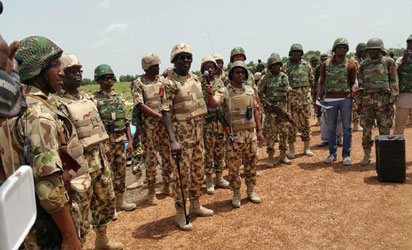 The two incidents occurred on Saturday, a military officer told AFP.
"We lost two soldiers in the incidents. Nine others and three civilian vigilantes were injured", said the officer who asked not to be identified because he was not authorised to speak on the matter.
Troops rescue 73 hostages, kill 7 Boko Haram terrorists in Borno
In the first incident, troops on foot patrol stepped on a mine around Kumshe village, near the border with Cameroon.
"Two soldiers were killed in the explosion," a member of a civilian militia assisting in the fight against the jihadists, told AFP.
Hours later a military patrol hit a mine planted on a road between the towns of Dikwa and Marte, about 140 kilometres away. Nine soldiers were wounded as well as three from the civilian militia group, the officer said.
Boko Haram has intensified attacks on military targets in Borno and neighbouring Yobe state in recent months.
The nine-year jihadist conflict which has spilled into Niger, Cameroon and Chad, has killed 27,000 people and left some 1.8 million homeless in Nigeria alone.
Source: https://www.vanguardngr.com/2018/10/two-nigerian-soldiers-killed-in-mine-blasts/