By Kingsley Omonobi and Ochiuko Akuopha
EIGHTY-YEAR old kidnapped retired Naval Captain Stephen Okumor  has been found dead at his abductors' hideout at Olomoro community, Isoko South Local Government Area of Delta State.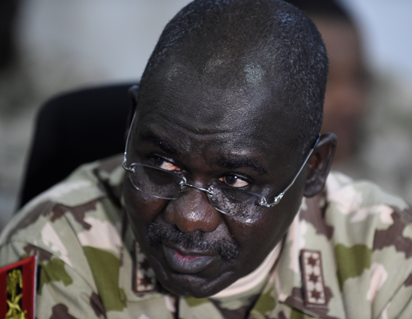 The lifeless body of the octagenarian, who was kidnapped from his residence in Ada-Irri community in the council area,
was discovered by police officers from the Oleh divisional headquarters who came to his rescue.
British Council trains 20 policemen on rape, gender based violence in Adamawa
The incident caused pandemonium in the community as the building where Okumor was kept was set ablaze by angry youths.
A source, who preferred anonymity, narrated: "The police stormed the community after a tip-off and moved into the building where the kidnap victim was kept. In the process, they arrested two kidnappers. Unfortunately, the old man was found dead.
"As the kidnappers were being taken out of  the community, some youths mobilized and set the building where the victim was kept ablaze."
Confirming the incident, Police Public Relations Officer of the state command, Mr. Andrew Aniamaka, said the kidnap was masterminded by a nephew of the deceased who, he said, confessed to the crime after his arrest.
Breaking: Africa's youngest billionaire kidnapped in Tanzania – police
Saying that the deceased retired from the Navy about 15 years ago, he said a locally made cut to size barrel gun was recovered from the kidnapers.
He said the police was making effort to arrest a fleeing suspect.
Meanwhile, the Nigerian Army has urged Nigerians to disregard a video in circulation purporting to show killings in Plateau State.
The Army said the video was shot in 2011 and aimed by enemies of state to poison the minds of the various ethnic groups in the state.
A statement posted on the Nigerian Army twitter handle said, "Fake Video in Circulation:
The attention of the Nigerian Army has been drawn to a video released by enemies of the State and mischievous persons purported to convey the present security situation in Plateau State.
"For clarity, the said video was originally released by  #France24  on 14 Jan, 2011.
"Consequently, the public is advised to disregard the video and be rest assured that modalities are emplaced to ensure that the peace in Plateau State and indeed the entire country is not compromised."
Source: https://www.vanguardngr.com/2018/10/retired-naval-captain-dies-in-kidnappers-den-as-mob-sets-hideout-ablaze/