By Akoma Chinweoke
The President General of Igbo Speaking Community in Lagos, ISC, Chief Ebere Ubani, has described the New Yam Festival (Iriji)  as an annual solemnity and a platform to showcase the depth and chasm of the enviable Igbo customs and cultural prowess especially, those born away from home, friends of Ndigbo and her host communities.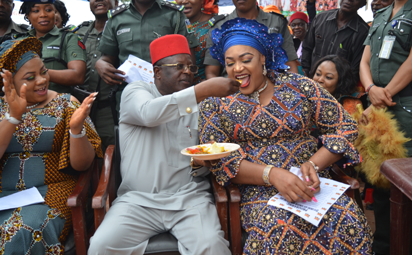 Ubani, who spoke in Lagos at this year's new yam festival, said the event has so far formed the fulcrum of ISC strides towards the promotion and dispensing of the rich Igbo customs and cultures in the country and beyond.
He noted that the singular annual rendezvous which has become a carnival of sort, has been very directive and helpful in creating the desired awareness needed for a revitalized Igbo consciousness among the people.
Kano State Govt. inaugurates enrollment drive campaign c'tees
"Therefore, Igbo speaking community in Lagos, places unambiguous and incomparable premium on Iriji festival, as it avails us, the needed opium to interface with the larger Igbo population both from home and within the precinct of Lagos state, which ultimately, enhances  our affinity towards a closer tie and oneness as a people."
He added that under his watch as the ISC president general, the age long steadfastness on promotion of  Igbo customs and cultural evangelism, got heightened and it is today yielding the desired dividend through the collective efforts of its teeming members and countless others.
Serving Humanity: Encounter with British woman who saved lives in Nigeria
Source: https://www.vanguardngr.com/2018/10/why-igbo-place-premium-on-new-yam-festival-ubani/