By Jacob Ajom
In a matter of hours, the Super Eagles will be having, perhaps their sternest test yet, in the 2019 Africa Cup of Nations qualifying series, when they confront The Mediterranean Knights of Libya at the magnificent Akwa Ibom International Stadium, Uyo. As the minutes are ticking away, the atmosphere here in Uyo is electrifying.
The fans who have been starved of international football action can't wait for the blast of the whistle. Yet recall of Eagles' outing in the last qualifier against the Bafana Bafana of South Africa, which the Nigerians lost 0-2 sends shivers down the spines of the expectant fans.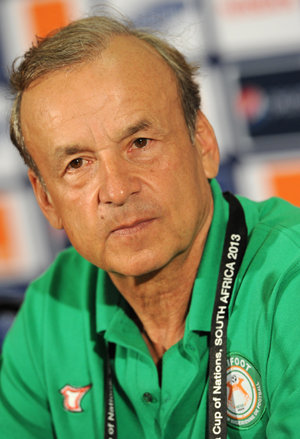 Libya tops the group with four points, same with South Africa but have superior goal difference. Although they have not played here before, they enjoy a dreaded reputation among Uyo football fans.
The Mediterranean Knights, as the Libyan national team are called, have not lost a match yet in the series and went to South Africa and pulled a goalless draw against Nigeria's conquerors away.
Pogba takes aim at Mourinho's negative tactics
But coach Gernot Rohr is not perturbed as he has been going about his duties with precision. The boys he called for the double header have been responding to training and today are set for the encounter.
Speaking earlier in the week, Rohr said, "we have done all we need to do to face Libya and achieve a good result. So far, I am happy with their level of fitness and we have as well done all the tactical preparations."
Rohr is not moved, one bit by news of the resignation of Libyan head coach, Adel Amrouche who fell out with that country's football authorities for non-payment of salaries and interference in his management of the national team.
"As far as I am concerned, that hasn't changed anything. We have seen the team in the video and they played fantastic football against South Africa. They almost won. The coach may have gone but the players remain the same and it is the same team.
"At times it is even more difficult against a new coach because everybody want to show what he can do. They have good sense of organisation and like to play counter as well.
"We are ready for them and we are happy to play in Uyo, we like the pitch and the people here. We lost our first match against South Africa, which means this time, we have to win. We have to go and attack to win this game."
Rohr regretted that his captain John Obi Mikel was not fit to be in  Uyo for the Libya match. "He has a knee problem and is still recuperating. Even in his club, he has not been playing. Once he  recovers fully, he will rejoin the team," the coach assured.
On a happy note however, Rohr admitted he has a problem on his hands as most the players that were absent for the Seychelles like Alex Iwobi and Moses Simon are available in Uyo. "I have a problem of choice. We have 24 players in camp and only 11 will play even when only 18 will be named in the squad. That is why we are getting the fittest to play this all important game."
Source: https://www.vanguardngr.com/2018/10/well-attack-attack-and-attack-rohr/