By Sonny Atumah
Last week oil prices spiked to an all time high in four years since 2014.  The international benchmark ICE Brent for December settled at US$86.29 per barrel Wednesday October 3, up US$1.49 per barrel from Tuesday, October 2. The West Texas Intermediate, WTI crude the U.S. benchmark oil futures, rose by US$1.18 per barrel to settle at US$76.41 a barrel on the New York Mercantile Exchange, NYMEX. With rising demand and no spare capacity to be deployed to boost global supply the bullish prediction of oil prices hitting the US$100 mark appear imminent. Many believe that another spike may cripple the industry. The oil market looks up to Saudi Arabia, its allies in  the Organization of the Petroleum Exporting Countries, OPEC and Russia would do to calm market supply worries that have contributed to a rise in oil prices above US$86 a barrel last week.
President Donald Trump of the United States has been blaming OPEC for rising crude prices. The United States State Department allegedly accused the OPEC of withholding about 1.42 million barrels per day of spare capacity from the world market. Expert opinion is that using the carrot approach is better than the stick approach to boost supplies.  The May 2018 revocation of the nuclear agreement with Iran and the re-imposition of sanctions contributed significantly to the foggy global situation. Russian President Vladimir Putin at a conference in Moscow was quoted as saying that the price for oil is very largely the result of the current expectations of sanctions by the U.S. administration against Iran and the political problems in Venezuela. The Russian leader believes that Trump would share a greater blame on the reasons for the high cost of crude. And we have not forgotten the American trade war with China.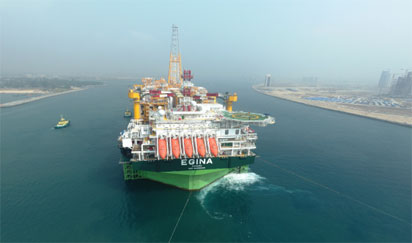 Solutions may yet be found in the blame game across the global geopolitical divide. It is now a matter of moral imperative to reduce the risks associated with geopolitical disruptions of global crude oil flow. Is what is being offered sufficient if it becomes absolutely necessary to shut out Iran for political intransigence? There are indications that the United States would ramp up supply by about 1 million barrels per day from its domestic production. From the Raymond James report in the Houston Chronicle, the United States crude oil exports surged by 50 percent in 2018, from 1.2 million barrels a day through July 2017 to more than 1.8 million barrels a day through this July. That production growth could top 1.2 million barrels a day in 2018 alone, pushing the United States to 11.2 million barrels a day. The report expects the same level of production growth in 2019, which would bring U.S. oil production to around 12.4 million barrels a day.
The report expects almost all of the added supply over the next few years will be destined for the export market. This may be possible because American-based refineries are grossly configured toward heavier crude oil types compared to the light sweet crude oil types that are produced out of American shale oil fields.  Raymond James expects exports to be above 4 million barrels per day by the end of 2020. It may be cheering news for America as it would always have a spare capacity to deal with erring crude oil producing nation.
Last June, OPEC, Russia and nine other countries made a solemn undertaking to reduce over compliance with production cuts that have been in force since January 2017. A review of compliance level by the Joint OPEC and Non-OPEC Ministerial Monitoring Committee, JMMC in Algiers on September 23, indicated reasonable progress made towards the decisions of the 174th Meeting of the OPEC Conference convened on June 22,2018 and the subsequent 4th OPEC and Non-OPEC Ministerial Meeting of June 23, 2018 to adjust overall conformity to 100 percent has been made. The Committee which expressed satisfaction with the performance of participating countries since the JMMC Ministerial Meetings in Vienna noted the efforts made to achieve an overall conformity adjusted to 100 percent, with the rate of inventory draw down reversed as a result but urged countries with spare capacity to work with customers to meet their demand during the remaining months of 2018.
Pregnant women will leave labour room to vote for me – Buhari
Can OPEC ignore Trump's calls for a rapid production increase to offset the drop in Iranian shipments?  The OPEC and Non-OPEC including Russia since January 2017 when it cut production to re-balance global crude oil inventory.  OPEC has been the stabilizer when it mattered. Saudi Energy Minister, Khakid al-Falih last week in an energy event in Moscow that Saudi Arabia   will invest US$20 billion in the next few years to maintain and possibly expand its spare oil production capacity.  It has a maximum sustainable capacity of 12 million barrels per day. The energy minister has repeatedly called on other oil producers to invest in capacity-building to avoid a supply shock and spike in oil prices. It is an expensive venture for oil producers but that may be the way to go.
Source: https://www.vanguardngr.com/2018/10/geopolitical-disruption-risks-without-oil-spare-capacities-2/