By Dr. Dele Sobowale
"Brace admiral, say but one good word; what shall we do when hope is gone? The words leapt like a leaping sword: sail on! Sail on! Sail on! And on! Joachim Miller, 1841-1913.
VANGUARD BOOK OF QUOTATIONS, VBQ, p 186.
I read Millers poem on Perseverance when I was compiling the book of quotations in August 1967 according to my notes at the time. It was a difficult time for me and I came close to giving up on life. Providentially, this poem came up in a book and courage returned. It is the perfect opening for this piece on Alhaji Atiku Abubakar, GCON, former Vice President of Nigeria from 1999 to 2007. His emergence as the Presidential candidate of the Peoples Democratic Party actually started in 2006 at a breakfast meeting with leading columnists of the day in his residence at Ikoyi. Lagos. Some have passed on; many more are in voluntary or involuntary retirement. To the best of my knowledge, only few of us remain in active "service" since that meeting.
I can't speak for others; but, when the call came from Mallam Garba Shehu inviting me to a breakfast meeting with the Vice President, the last thing on my mind was what occurred. After an excellent breakfast, we were called to attention. The VP had something to say to us. That was not surprising. Nobody calls over twenty top pen-pushers to a meal on a Sunday morning just for the fun of it.
After the preambles, he got to the point very quickly. "I am running for the Presidency of Nigeria under the PDP." It was as simple as that. Or was it? Shortly after a few questions from the audience, we were ushered out. I deliberately stayed behind. To me it was obvious that the man had declared war against a former General and head of his party – President Olusegun Obasanjo. I wanted to be sure that he knew the meaning of what he just said and was prepared for a "no-holds-barred" battle.
"Your Excellency, are you aware that you have just declared war? Because if you are not prepared for a total war with Obasanjo. I will urge you to call back my colleagues and ask them to forget everything you told us."
Without hesitation, he calmly told me that he was ready for anything. "Anything? Risking life included? Remember Bola Ige; he too wanted to run for President. He received bullets for his troubles."
"Yes, I am ready for anything."
Then it became clear that here is a man with more courage than the rest of us ordinary mortals. He was going for it and nothing would stop him. I wished him luck; went to my church and prayed for him as one would pray for a fellow thrown to lions with just a small knife in a Roman amphitheatre. To be quite candid, I never thought he would survive it.
Those old enough to recollect what happened then should remember how Obasanjo and his Ministers as well as Nuhu Ribadu, former Chairman of the Economic and Financial Crimes Commission, EFCC, went after him with all the resources of the Federal Government.
Unknown to Atiku, on the day of his declaration, Obasanjo had already put in motion the series of activities that would result in his third term. One of his Ministers, working with others in House number 7 in the Villa had told me about the conspiracy to subvert the constitution. Atiku's forced entry into the race was therefore seen as an affront to the well-laid plans. He nearly paid for his stubbornness with his life. But, that is a story for another day.
He was hounded out of the PDP as a first step to defeat his ambition. Undaunted, he teamed up with Bola Tinubu and the Action Congress, AC, which needed a Northern presidential candidate. That only infuriated Obasanjo more. The former President had sworn that Atiku would never be on the ballot; not to talk of running for the office. Bola Tinubu received a "dirty slap" for his audacity in providing a platform for the outcast from PDP.
Local Government allocations for Lagos State were withheld by Obasanjo ostensibly because Lagos State had unilaterally created additional Local Governments. Even court decisions – including Supreme Court judgments were ignored by the former President. That action would have got any American President impeached. But, by 2006, the PDP and its president had become executive outlaws. Obasanjo was allowed to literally get away with murder of the constitution of Nigeria. Tinubu thought he was under attack for creating LGCs. In fact, he was punished for offering Atiku a platform to contest – according to my informant in Aso Rock.
Over twenty two cases went to the courts after Atiku decamped to the AC and still refused to step down as Vice President. It is noteworthy that those who sided with Atiku, asking him to stay put are today asking Senate President Saraki to resign for going back to PDP. Atiku won virtually all cases – including whether or not the Ac could field him as a candidate. A late Supreme Court decision gave him victory. Thus on Election Day 2007, Alhaji Atiku Abubakar appeared on the ballot papers. He was defeated; but contrary to Obasanjo's wish, he had contested for President.
He returned to PDP again and remained in the party until Jonathan's second term ambition and then went back to the new coalition – the All Progressives Congress, APC. It was a mistake; quickly regretted and later corrected. Today, he is the Presidential candidate of the party which first denied him the ticket in 2006-7. What lessons can one learn from this turn of events? What made it possible? But, most important of all, what can Nigerians expect if Atiku becomes President in 2019?
CAVEAT
Every effort will be made to be objective on this matter. No attempt will be made to dress Atiku in borrowed robes. I will write only what can be substantiated, often with witnesses named. However, the confession must be made that Atiku is regarded as a friend and permit me to state how he became a friend and use that true story to illustrate one of the characteristics of the man offering to rule our country.
Generosity
Mallam Garba Shehu, now Senior Presidential Adviser to President Buhari is my witness on this one. Back in 2006, Lagos Island was engulfed in endless riot when Governor Bola Tinubu and Minister of Works under Obasanjo, Mr Sewa Ogunlewe were engaged in a test of strength. Every thug available in Lagos was employed by the two parties in violence which destroyed properties and lives. I was a direct victim. My brand new official car was almost totally demolished. The story appeared in the media. Neither Tinubu nor Ogunlewe offered any assistance.
Then, a call came from Garba Shehu. Atiku asked me to come to Abuja, I went and Shehu handed me the keys of a brand new car as replacement. But, just before you say "Ah, so you were compromised", read on. Instinctively I was faced with a dilemma. I badly needed a car. And, I appreciated this gesture. But, something told me it was not right to accept the gift. So, I called our own Uncle Sam to seek his views. They tallied with mine. The car was returned with thanks and a deep apology. I was afraid he would be annoyed. But, no he understood the principle. He became my friend that day till today. Garba is alive; so is Uncle Sam. So, I can go on with the article.
Later, I got to know him better and it became clear that generosity runs deep in him. Obasanjo and Buhari have been beneficiaries of his kindness. Unlike most other philanthropists, he seldom talks about his gifts given to others. One thing we will not have is a stingy and selfish president.
Economic Foresight
If the reader has never been to Onne in Rivers State, he should take the trouble to go there and ask to be told the history of how an abandoned swamp considered good for nothing has been transformed into one of our economic power houses in Nigeria today.
Unfortunately, most people reading about Intels and its running battles with the Nigerian Ports Authority are unaware that it was the vision of the foreign partner and Atiku which created the wealth whose distribution is now in dispute. Left to the NPA, the FG and even Rivers State Government Onne would still have remained a swamp not an investment destination.
From the standpoint of entrepreneurship, there can be no comparison between Atiku and any other competitor. Readers must also bear in mind that Atiku is from Adamawa, in the Northeast and Onne is in the Niger Delta. Faith in Nigeria has never been more amply demonstrated than this. And, the job creation is phenomenal.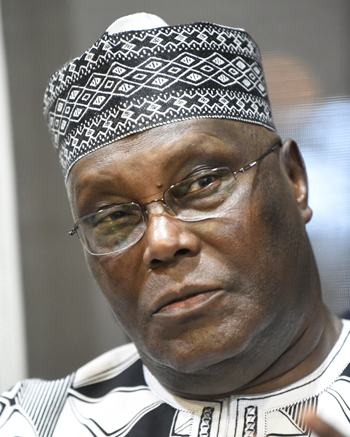 Restructuring
In March this year, I went to Abuja ready to argue with and enlist Atiku in the struggle for restructuring – which is now our new mantra. As soon as the subject was introduced, he reached under his table and produced a book he had written on restructuring. Critics might say he did not write it personally. That might be true. I have written at least six books for important people. Invariably, the idea comes from them. I only supply the words, the research and the padding. At any rate he soon launched into the discussion proving to me that he had read it. I have my copy. I am sure he will be glad to send one to anybody requesting for one.
He will certainly move us forward on restructuring.
Education
The man has the best university in Nigeria tucked in the middle of a region known to be educationally backward. He is not doing it for money but to inspire the youth who might never see University of Ibadan or Unilag or Covenant.
If he spends his own money that way, I will like to see what he can do with our own.
Security
Go to Intels where every inch on land is monitored 24/7. It is almost impossible to commit a crime there and get away with it. We can use some of the technology in sensitive places nationwide.
Broad-mindedness
The words "detribalised Nigerian" has been bastardised. Instead, everything about Atiku connotes broad-mindedness. To start with, he was our in-law in the Southwest long before he became a politician and everyone of his associations have also revealed that he knows there is talent outside Adamawa State. At Intels, I was amazed at the diversity of ethnic groups employed there. You can generally determine what a man believes in by how he spends his money. Atiku and late MKO Abiola were cut from the same piece of cloth. They have friends all over the Federation.
Because it was professionally required for me to remain neutral during the primaries, very little was written about him. However, in my travels nationwide, it was clear that he had the widest network of friends and associates. There was little doubt in my mind that he would emerge the choice of politicians.
Under Atiku religious tolerance is guaranteed. The man has no religious bias in his bones. Farmers will sleep with two eyes closed; wake up in the morning and go to farm with a great deal of assurance that they will return home at night to sleep again.
Forgiving
A few years ago, I had thought he would never talk to Obasanjo again – given all the attempts the former President made to destroy Atiku. I was astonished when he went visiting his former boss at Aboekuta. Unlike OBJ who never forgives or forgets, Atiku would forgive anybody bold enough to ask for his pardon after a transgression. Like Buhari, he had vied for the Presidency several times – 1992, 2007, 2011 and 2015. Each time he had spent money generously. Quite often, he knew those who collected his money and still voted against him. Yet, if they are still in the party he treats them as friends and still helps them.
THE DARK SPOTS
Feeling uncomfortable, I once asked him a question about his perceived corruption. To be honest, I was ready to be driven out of the premises. His answer delivered without change in voice or face was disarming. He said, "Dele, let anybody who has evidence against me publish it or go to court." I had no credible information at the time. But, he had thrown a challenge. It was up to me to find out.
I have searched everywhere, talked to people who might be aware of any charges against him. I have not discovered any. The closest I had come across was the US matter – which I must confess is still unclear to me.
It is difficult to know precisely how the perception developed.
The PDP governments – starting with Obasanjo's – left such monumental corruption that as the VP until things fell apart between him and OBJ, there is no way he would not be hammered for whatever role he played while in office. The mismanagement of Petroleum Development Trust Fund, PDTF, had been partly documented but no charges have been made. So, strictly speaking he has no charges against him.
That said; it is common knowledge that there are two courts in any country. The official courts managed by the judiciary and the courts of public opinion. Being discharged and acquitted in the latter is just as vital as in the former. He has a lot of work to do in that regard and this is task which has been made more difficult by social media where character assassination pays great dividends.
LAST LINE
Since the reader wants to know the answer to the question: will you vote for him? The answer is "Yes". He is my friend and most importantly I admire his qualities
Source: https://www.vanguardngr.com/2018/10/atiku-loneliness-of-a-long-distance-runner/