AS members of Nigerian Guild of Editors brainstorm on how to achieve a credible general elections in 2019, Delta State Governor, Senator Dr Ifeanyi Okowa has advocated for change in the funding of Independent National Electoral Commission (INEC) to ensure that the commission is truly independent.
The governor spoke on Friday at the executive session of Day 3 of the 14th All Nigeria Editor's Conference (ANEC) which had as its theme, 'Credible Elections, Sustainable Democracy and the Role of the Media,' in Asaba.
According to the governor, "INEC is supposed to be an unbiased body, so, how can they truly be unbiased? How will they get their source of funding? How will they work on their process of appointments? These and more questions are what we are supposed to address and they have to be dealt with in such a manner that we can give them enough power, make them truly independent in such a manner that they do not walk cap in hand to the executive to ask for funding, because when you know that somebody controls the funds, you will definitely not be in a position to be truly independent."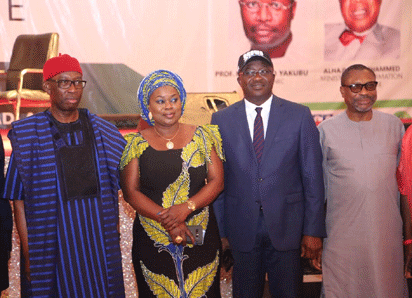 "It will be hard to say, no when such individuals in charge of the funds make certain request, and I believe that INEC is gradually moving, I still believe that there is a lot to be done which means that our legislations must be in such a manner that will truly make INEC independent and if they are going to be answerable to anybody at all, they should be answerable to the legislature and not any other arm of government which will be better," Governor Okowa said.
Governor Okowa used the occasion to disclose why the Peoples Democratic Party's special Convention Planning Committee which he was the Chairman was able to organise a free, credible and acceptable presidential primary election of the PDP, saying, "we did our best to conduct the primaries that one can truly say that we did things, the way they ought to be, because we had to extract from our National Executive that we would be allowed to do what is right otherwise, we will not accept the nominations to conduct the primaries and I thank God that they allowed us do what is right and once we do things right, it becomes easier for one to move forward and the press is very important in trying to turn things around for our country."
"If all of us work together and that means that the press must be able to report appropriately, they must be in the position to advise us the politicians appropriately and they must be in a position to fully inform the people and beyond the information, they must put us, politicians, under pressure and it is very important that we must realise that not just the Guild of Editors but, the entire press need to play the role it ought to play if we are able to do things better that will gradually improve the situation, so that we can conduct elections that are credible," Governor Okowa added.
The governor who used the occasion to reel out his achievements in Delta State, emphasised, "generally, in our country, I do believe that the need for voters' education, the need to ensure that we take our people out of the poverty level are motivations that will help us to improve on the electoral process because, as long as our people continue to remain in the poverty bracket, there will be no integrity."
Source: https://www.vanguardngr.com/2018/10/2019-okowa-advocates-alternative-source-of-funding-for-inec/