Tianjin Teda of  China midfielder, John Mikel Obi has apologised to Nigerian soccer fans over his absence from the Super Eagles' squad for this weekend's Africa Cup of Nations qualifier against Libya.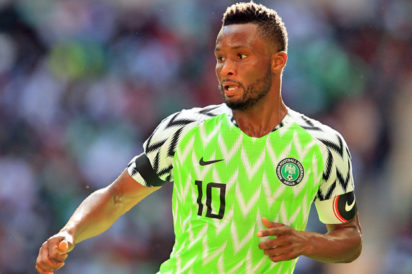 While many Nigerians are already critical of Mikel's absence from the second straight AFCON qualifier, and have dubbed it a stylish approach to retirement, the Eagles' skipper says he is still committed to the country.
This much was provided by Eagles' technical adviser, Gernot Rohr, who stated in a press conference at the Nigerian camp in Uyo that Mikel feels a lot for the team but had to stay away in order to gain full fitness before reporting back to national team duty.
Rohr explained: "Mikel is still not fit and so he asked to be left out. It's a physical problem.
"Once he is fit again and playing for his club, he will be back with us and I hope that will be soon. We hope he will be back for next month's game in South Africa."
Source: https://www.vanguardngr.com/2018/10/mikel-pleads-for-mercy/