By Donu Kogbara
EX-VP Alhaji Atiku Abubakar enjoyed a resounding victory last weekend; and his emergence as the presidential candidate of the main opposition party, PDP, has totally panicked many previously complacent members of the ruling All Progressives Congress, APC,  because they know that Atiku is the only Nigerian politician who has what it takes to beat President Buhari in 2019.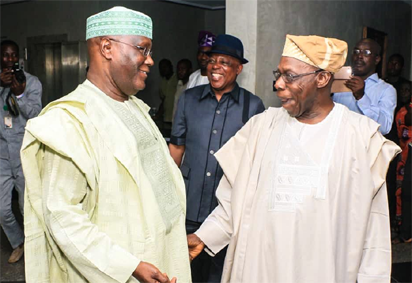 It took the PDP quite a while to recover from the sheer shock of being defeated in 2015, after having totally dominated the political scene since the termination of military rule in 1999.
And as the PDP went through all manner of toxic internal tensions in full view of the general public – and struggled to regain its composure, credibility, self-esteem, cohesion and equilibrium – Buhari's acolytes smugly rested on their scanty laurels and gleefully declared that the PDP was "finished."
Domination of the political scene
Well, as a floating voter who enthusiastically backed Buhari in 2015, then became disillusioned by his administration in 2016 and doesn't feel obliged to support any party unconditionally, never mind ad infinitum, I am delighted to announce that the PDP has survived, made a sensible choice and reopened for business.
Don't get me wrong: I don't think that the PDP is fundamentally different from – or superior to – the APC.
Sure, the latter spews out lots of sanctimonious anti-corruption rhetoric; but it's mostly about mere lip service and b—s—!!!
Sure, the former frequently loudly accuses the latter of abusing power, using Federal Might unethically and engaging in tyrannical  activities. But those of us who are not suffering from amnesia can clearly recall a time when the PDP exploited the fact that it was In Charge by pulling similar stunts.
The truth is that both parties are into hypocrisy, contain roughly the same types of people from all over the Federation, don't concern themselves much with interesting ideological concepts and are essentially hardcore conservative.
And it's precisely because the PDP and APC are basically the same kind of club that cross-carpeting is so commonplace.
Grinning cynically and unrepentantly
A pal who has moved from one to the other and back again tells me – grinning cynically and unrepentantly – that he was entirely motivated by self-interest and feels completely at home in both parties for as long as he is being "well taken care of"!
Anyway, though I'm pleased that the PDP has finally gotten its groove back, I am not madly in love with either party because I have friends and foes on both sides of the fence and know that most PDP/APC folks are no better or worse than each other.
Long story short: I'm celebrating PDP's revival because democracy thrives when opposition is robust. And the APC needs to be challenged; and Atiku is, I think, equal to this task.
I don't know Atiku well, but I've met him a few times and really like the cut of his jib.
My panicking APC friends keep assuring me that Atiku is "corrupt" or "deeply corrupt" or "profoundly corrupt".
They swear that he got rich through grand larceny and bought the delegate votes that enabled him to beat his presidential aspirant rivals.
But, as PDP publicity secretary, Kola Ologbondiyan, points out:
"This is just a new attempt at smear campaign with spurious allegations…a defeatist approach that shows that the APC and the Buhari Presidency are afraid of the Atiku candidacy and have reached their wits end, well ahead of the elections.
"The claims, by APC, of vote-buying at our national convention, is therefore, not only false but completely unfounded and symptomatic of a party that has totally lost bearing and now engaged in rumour mongering…"
Anyway, they can continue with their insults. But I really don't care what they think of him!
What matters is that Atiku is charming, clever, detribalized, efficient, entrepreneurial, not intimidated by above-average individuals and very respectful.
Earlier on this year, I asked Atiku why he didn't punch back more aggressively whenever one of his most dogged detractors took pot shots at him. And he sighed and said: "I would rather not because he is older than me and used to be my Boss."
Such touching humility and excellent manners!
And – most important of all perhaps – is the fact that Atiku (unlike Blinkered Buhari) believes in restructuring, the only thing that will save our ailing nation from going down the drain.
He has said that there is no alternative to restructuring. He has quite rightly highlighted the fact that "too much power" resides in the hands of the Federal Government, a situation he says makes governance less competitive, particularly in the states.
We desperately need progressive thinking like this in the 21st century.
Source: https://www.vanguardngr.com/2018/10/atikus-big-win/