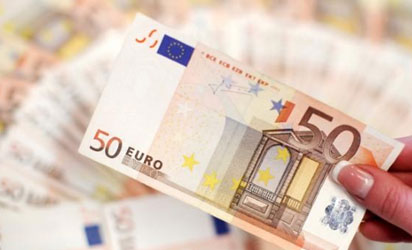 The euro steadied near $1.15 and away from seven-week lows on Wednesday as a fall in U.S. Treasury yields took some steam out of the dollar's recent run.
Rising Treasury yields and concern about the sustainability of Italy's public finances after the ruling parties proposed a budget criticized by the European Union and have fueled another rally in the dollar in recent sessions, sending the greenback to a 1 1/2-month high on Tuesday.
That rally paused in European trading on Wednesday, although analysts said it was likely to prove a temporary reprieve for the euro.
Investors are betting that rising inflation pressures will keep the Federal Reserve, which unlike the European Central Bank is hiking rates, firmly focused on tighter policy, even as U.S. President Donald Trump took aim at policy makers' hawkish inclinations.
"If U.S. yields rise at the same time and the market prices in a slightly more aggressive Fed next year, that automatically means that EUR/USD will head south," said Commerzbank analyst Antje Praefcke.
"That means that short-term the dollar will continue to remain bid. The euro has lost its shine and therefore has too little to offer at present."
On Wednesday, the dollar index was largely unchanged at 95.692, not far off 96.163 reached during the previous session — its highest level since Aug. 20.
The euro hovered around $1.1486 having briefly pushed past $1.15 in Asian trading hours.
Yields on Italy's 10-year bonds have hit a 4 1/2-year high this week – reflecting concern about the country's finances – despite encouraging comments from Italian Economy Minister Giovanni Tria.
Tria said that Italy will do whatever is necessary to restore calm if market turbulence turns into a financial crisis, adding fears over the country's budget plan for next year were unjustified.
Elsewhere, other hard-hit currencies took advantage of the dollar's pause, with the Australian dollar strengthening.
Sterling hit a 3 1/2-month high versus the euro after reports that Britain and the EU were making progress towards a Brexit deal. The pound also rose against the dollar.
Yields on the benchmark 10-year Treasury bond US10YT=RR stood at 3.21 percent on Wednesday, after reaching a seven-year top of 3.261 per cent overnight.
"The rising U.S. bond yields have obviously provided support to the dollar," said Yukio Ishizuki, senior currency strategist at Daiwa Securities in Tokyo.
"On the short term, the dollar may be sold, but I don't think that will last long. The dollar will start to strengthen again."
Against the Japanese yen, the dollar edged higher, trading up 0.1 per cent at 113.06 yen.
China's offshore yuan gave up 0.1 per cent to 6.9237 yuan per dollar, not far from the 6.9379 two-month lows touched at the start of this week.
A Reuters poll released Wednesday showed China's onshore yuan is forecast to pare some of its recent losses against the dollar over the coming year on hopes that risks from the U.S.-China trade war and a sell-off in emerging markets will subside.
NAN
Source: https://www.vanguardngr.com/2018/10/euro-steadies-as-dollar-rally-takes-a-pause/