By Harris-Okon Emmanuel
UYO—Martha Emmanuel, re-christened by hordes of admirers and Akwa Ibomites generally as 'Martha of the Moment', is not just Martha by name but by deed. Like the Biblical Martha, the Akwa Ibom First Lady loves to care and so, to live up to her billings, she established an NGO called FEYReP (Family Empowerment and Youth Reorientation Programme) three years ago; a social interventionist vehicle which, according to Martha, was to "stand in the gap" for society's downtrodden and the vulnerable. FEYReP, in more specific terms, has as core objectives; "empowering families and restoring values in our youth."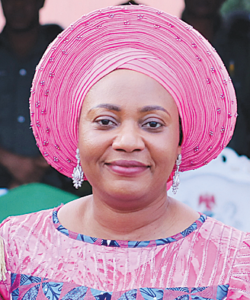 The journey, according to her, started on September 21, 2015; a day she describes as marking a watershed in her life. ''It was a day I experienced a transformation from being just a public-spirited individual who invests in charity as a whim or a conscientious obligation. That was the day I made a commitment to a mission for the public good; to drive a clearly-defined social agenda and to stay accountable to the public for the successes or failures of the mission." That was the birth of FEYReP.
But before the 'transformation', Martha had always been a Martha. A peep into her background will throw more light; "My grandfather was the paramount ruler of Oruk Anam; comprising today's Abak, Ukanafun and Oruk Anam local government areas. My family loved the people around them. I could remember when I was growing up, my family compound was called a camp ground because so many of my relatives would come and stay with us. So, I grew up to see my parents helping people, loving people, that is why I am doing what I am doing today because I learnt it from my folks." In other words, FEYReP was born of a passion, rooted in a family tradition of caring.
Three years into the journey, Martha says the experience has been fulfilling. FeyRep has become "the harbinger of hope to the vulnerable and indigent poor both within and outside Akwa Ibom State."
Among others, the NGO has become a major champion of family empowerment programmes, particularly those targeting women and the girl-child. To date, FEYReP has set up cassava and palm oil processing mills across each of the three senatorial zones of the state; by so doing, impacting positively on the food sufficiency programme of the state government.
2019: A-Ibom APC adopts Ekere, Akpabio as consensus candidates
At one of its cassava plantations in Okobo Local Government Area, the NGO successfully breeds a high-yielding cassava variety which has been a big boost to garri production in the state. This effort, no doubt, would have contributed greatly to crashing the price of the people's staple food from the two cups for N200 as at when the government took over in 2015 to now that same N200 would buy 12 cups of same item.
Similarly, FEYReP has disbursed start-up grants and equipment to over 5,000 beneficiaries mostly women and youths to empower them to set up small businesses for themselves. The philosophy behind family empowerment, the First Lady says, stems from the fact that, "when a family is successful, we are mostly likely going to have responsible children," adding: "When you see a family that is not doing well, you will see the result in the children."
FEYReP, during these three years, has partnered with several organisations and agencies both locally and internationally, to deliver quality healthcare to thousands of otherwise hapless citizens. For instance, last year, in conjunction with the MTN Foundation, it conducted free eye surgeries for hundreds of people and also gave out free eye-glasses in the process. In a similar partnership with Akwa Ibom State Association, USA (AKISAN), the NGO touched the lives of several hundreds of beneficiaries through free surgeries of diverse ailments. It has equally partnered with Neimeth International Pharmaceuticals to deworm close to 1,000 children across the 31 local government areas of the state.
It is on record that FEYReP has also within the period, initiated several outreaches targetted at improving the lot of the girl-child. Through its Girl Uphold Your Dignity campaign, the NGO has toured schools across all the local government areas of the state to educate female children on the dangers of teenage pregnancy amidst other anti-social vices. So too, with its advocacy on rape where the NGO partnered International Federation of Women Lawyers to launch a major offensive that resulted in the prosecution of scores of culprits; thus serving as deterrent to others. But more importantly, the advocacy has become a major avenue of enlightenment for the girl-child and instills fear in the minds of the criminally-minded.
There is yet another outreach, PREGNACARE through which FEYReP donates complete delivery kits to pregnant women thereby reducing the spate of infant mortality in the state. Similarly, FEYReP has brought succour to families with multiple children, in most cases footing the bills and being a pillar of support for the upbringing of the children.
2019: A-Ibom APC adopts Ekere, Akpabio as consensus candidates
In yet another of its success stories, FEYReP has provided a home for over 700 orphans who are now under its care for upbringing and education; thus earning them a future and hope.
The FEYReP story cannot be complete without a mention of the 27 widows who were relocated from their dilapidated homes to brand new bungalows built and donated to them by the NGO.
The visually-impaired and indeed, other physically/mentally-challenged persons are not left out of FEYReP's scheme of things, as it is on record that several interventions aimed at giving their lives meaning have been carried out by the NGO.
Martha herself, attempts an assessment of the social intervention programme last week at the Ibom Hall venue of the commemoration of its three years: "So many people and families have been empowered. So many orphans who were not able to pay their school fees have had those fees paid for them. So many lives have been touched through FEYReP. So many that were homeless have also been provided with decent accommodation. A lot have been done to improve the lives of our people."
Perhaps, what gives Martha a greater satisfaction is the fact that structures have already been put in place to ensure that the good work continues long after Martha leaves office as the First Lady.
"Talking about sustainability, by the Grace of God, it (FEYReP) will go beyond 2023. I have gone to establish relationship with the international community. In March this year, by the grace of God, I was recognised by the International Human Rights Commission of the United Nations as the Heart of Champions."
Source: https://www.vanguardngr.com/2018/10/emmanuels-feyrep-empowering-the-vulnerable-indigent-citizens/