The Ahmadiyya Muslim Community Worldwide, has honoured His Eminence John Cardinal Onaiyekan, the Catholic Archbishop of Abuja, with an International Peace Award through its Muslim Television Ahmadiyya, MTA Africa in Ghana.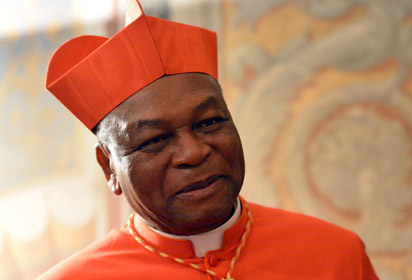 Mr Ahmed Konadu, Country Manager Nigeria & Ghana Muslim Television Ahmadiyya, MTA Africa Studios, said this in a statement on Wednesday.
The MTA Africa Peace Committee said that Onaiyekan has been on national televisions severally condemning the killings of innocent Nigerians by the Boko Haram group, describing their activities as "barbaric and inhuman".
"His style of intervention in religious and communal crisis resolution covers, religious persuasions, and town hall peace meetings between the warring leaders engaged in brutal killings in some parts of the country.
"Cardinal Onaiyekan used media advocacy to underscore the need for the Nigerian Government to show more commitment in addressing issues of social justice in order to achieve lasting peace in the country.
"In 2015 National election, he played a pivotal role with some elders in dousing the political tension by ensuring that Presidential candidates signed a memorandum of understanding on peace during and after the election.
"This led to the peaceful handover of power by the then ruling party- Peoples Democratic Party, PDP, to an opposition party – All Progressives Congress, APC for the first time in the history of Nigeria."
"Lately, Onaiyekan instituted a Fellowship Programme on "Inter religious Dialogue and Mediation, where 36 fellows, including 16 Muslim leaders and youths were trained in the art of conflict resolutions and peace building initiatives among ethnic groups,'' he said.
The renowned Catholic Priest won the prestigious award among other nominees in Africa, as a result of his commitment to peace efforts and initiatives in Nigeria and across the African continent.
The cleric was presented with a cash prize of One thousand Pounds Sterling, a certificate and a plaque.
He has also received many awards including Pax Christi International's in 2012 Peace Laureate, Peace Award from the Ahmadiyya Muslim Jamaat Nigeria in 2017.
NAN also reports that the award is in line with its motto of "Love for All Hatred for None'' in the countries where it is established. (NAN)
Source: https://www.vanguardngr.com/2018/10/cardinal-onaiyekan-honoured-by-muslim-group/