By Evelyn Usman
Five suspected members of a trans-border robbery gang who were fleeing Ogun state, after a successful operation, were in the early hours of yesterday, arrested by the Lagos State Police Command.
Vanguard gathered the gun wielding gang of nine, stormed a haulage company's warehouse, where they hacked one of the private guards with matchets before tying his legs and hands.
While two of them posed as guards at the gate to wade off intruders, others, loaded their operational vehicle, a Volvo truck with number plates KRD 515 XR, in which they loaded goods from the warehouse and zoomed off, abandoning the dying gate-man in the pool of his blood.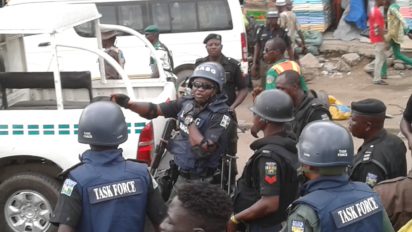 However, on entering Lagos, operatives of the Rapid Response Squad of the command , who were stationed at Toll Gate border of Ogun and Lagos states, flagged the vehicle down but the suspects kept moving, thereby arousing the operatives' suspicion.
The vehicle was chased to Meiran junction, where it was forced to stop. Suspected leader of the gang, Ahmed Ibrahim, (33) a Cameroonian, and four others identified as Kelechi Nebu (30), Ndueso Sunday (45), Tochukwu Egemuka (33) and Obinna Oforkaja (30), were subsequently arrested.
Recovered from them were 13 unit of truck tyres, one refrigerator, 26 gallons of 4 litre engine oil, 24 gallons of 25 litres of engine oil, two batteries, assorted charms, one cutlass and two knives.
Narrating how the suspects invaded the company, the haulage company's security guard, Kenny Peters said , "I was doing the rounds when they held me from the back. They wanted to shoot me first but one of them cautioned them that it won't hurt me. They macheted me in the forehead and beat me with all manners of rods including truck wheel spanners. They tied my hands to the back and carried me to one fence, thinking I was dead.
"They looted the company's store and were set to go when I woke up. I hung on to the back of the truck from Dalemo, Sango Ogun State to Toll Gate, where I saw RRS Team. I alerted them and they chased the truck to Meiran Junction, where they were forced to stop. Four of them fled while 5 were arrested."
Peter identified suspected leader of the gang, Ahmed, as the brother of the haulage firm's former security guard, whom he alleged stole about 100 truck tyres from the company in August 2018.
Parading the suspects at the Command headquarters, alongside other robbery suspects that had been terrorizing the state, the Lagos State Commissioner of Police, Imohimi Edgal, said efforts were still on to arrest other fleeing members of the gang, adding that the suspects would be charged to court.
Source: https://www.vanguardngr.com/2018/10/police-nab-5-trans-border-robbers-in-lagos/