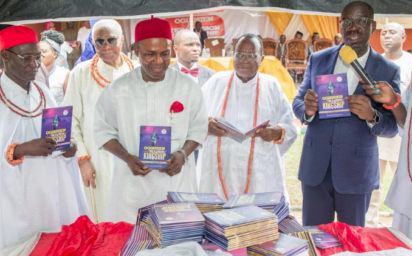 By Alemma Aliu
THE people of South Ibie in Etsako West Local Government Area of Edo State have described as misleading a report that the courts had sacked its current traditional ruler, Aidonoje of South Ibie, His Royal Highness Alhaji Aliyu Danesi.
A statement by Abbas Jatto said those behind the claims of the purported sack were mischief makers.
The statement reads:  "The law the mischief makers were relying on has since been repealed by a new law passed by  Edo State House of Assembly in 2006 and assented to by the then governor of the state on December 27, 2006.
"To correct the lacuna that was inherent in the previous law regarding the ascension to the stool of Aidonojie of South Ibie Kingdom, the law was gazetted as the new law stating who should ascend the throne of Aidonojie of South Ibie.
''This development led the state government into issuing a fresh letter of appointment to Alhaji Danesi on May 15, 2007, which took effect from February 7, 1998.
"To set the record straight, South-Ibie is peaceful, calm and hospitable for both indigenes and non-indigenes living within the community.
''Furthermore, it will be unwise not to refer to the said judgment that the warmongers are referring to. The judgment among other things recognised the fact that the existing law as passed by Edo State House of Assembly upon which Alhaji Aliyu Danesi was appointed, subsists as the court lacks jurisdiction to adjudicate on a matter that has gone to the Supreme Court and if contrary, will amount to an abuse of court process. The court, therefore, threw out the case as instituted by the Oghiator family.
"We urge all South-Ibie sons and daughters to disregard the obvious misleading article and continue to live in peace."
Source: https://www.vanguardngr.com/2018/10/no-tension-in-south-ibie-over-court-judgment-on-kingship-jatto/