THE curtain for the 2018 Kwese Premier Basketball League was drawn yesterday as a new champion emerged in Gombe Bulls, the Savannah Conference champions who defeated Kwara Falcons 81-67 to win the title.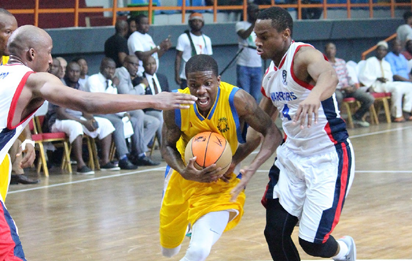 The Final 8 which concludes the 2018 season was played at the Indoor Sports Hall of the Sani Abacha Stadium in Kano.
Gombe Bulls led 26-21 in the first quarter as well as in the second third and fourth respectively thus 41-38 , 64-58 and 81- 67.
The final game witnessed a towering display of skills and experience by both teams in front of hundreds of fans.
At the end of the game, individual honours went to Ibe Audu of Gombe who was named the Highest Goal Scorer, and the Most Valuable Player.
Speaking after the action-packed final game, Nigeria Basketball Federation President, Tijjani Umar, expressed delight over the high standard of play exhibited during the finals.
He also commended the Kano State Government for hosting the finals for the second year.
Gombe coach, Abdulrahman Mohammed hailed his players for their show of determination throughout the season.
He also commended the players for their outstanding performance and fighting spirit.
Before the final match, Kano Pillars had beaten Hoops and Read 81-76 in the third place match.
Source: https://www.vanguardngr.com/2018/10/kwese-premier-league-gombe-bulls-are-new-champions-beat-kwara-falcons-81-67/