By Ebun Sessou
OWERRI—Prof  Alphonsus Njoku Ekwerike has emerged governorship flag bearer of the Abundant Nigeria Renewal Party, ANRP, for the 2019 gubernatorial elections in Imo State.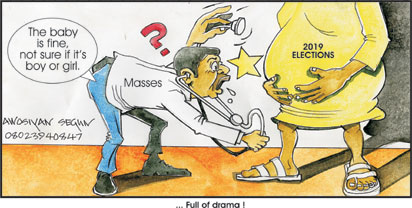 The  event which was held on Sunday 7th October, at ANRP Imo State secretariat, 49 Egbu Road Owerri, attracted Imo youths, women groups and other stakeholders, who expressed joy and demonstrated their strong support and confidence in Ekwerike as the best hand to govern the state come 2019.
Speaking to newsmen, Dr. Emma Amaefule said, "No doubt, Ekwerike a known inventor, a disciplined technocrat, tested and trusted administrator with proven track records and good mental capacity would "reposition the state and enforce enviable government leadership, effective good governance industrialisation, quality health care service, qualitative education, prompt payment of workers salaries, pensions, innovations and economic growth."
Ekwerike in his acceptance speech  assured the good people of Imo State of good things ahead come 2019. He maintained that he is "on a mission commissioned by God to solve the problems in Imo State.
"More importantly, I am to enforce massive employment, natural and infrastructural development, quality education, good security service, innovation in leadership and capacity development through training programme," he said.
It was gathered that Prof. Ekwerike over the years are known to have championed the development of nations such as Southern Sudan, Ghana, Kigali, United State of America through his world class innovations and inventive capacity. It could be recalled the since Prof. Alphonsus Ekwerike gubernatorial declaration to run for Imo state governorship come 2019, the majority of Youth, women and stakeholders have vowed to give their maximum support to him in other to deliver him during the general election as well as to enjoy positive changes, accelerated development and effective good governance.
Source: https://www.vanguardngr.com/2018/10/ekwerike-wins-anrp-imo-guber-ticket/