By Sam Eyoboka
LAGOS—VICE  President Yemi Osinbajo, Governor Akinwunmi Ambode of Lagos State and the General Superintendent of Deeper Life Bible Church, Pastor William Kumuyi, yesterday, urged Nigerians to shun corruption and ethnic bigotry.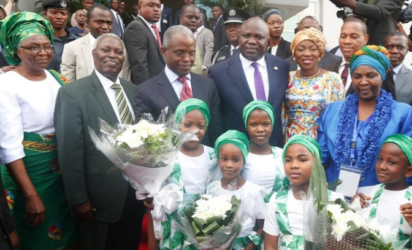 They said this at a special 58th independence anniversary interdenominational church service at the Deeper Life Bible Church headquarters in Gbagada, Lagos.
Prof. Osinbajo, who was the special guest of honour at the service, appealed to Nigerians to shun vices so that God will forgive our sins and heal our land.
He said: "My message for the nation at this 58th independence anniversary is that we have come of age and it is time for us to refuse and reject certain things that are offensive to God: we must refuse corruption; we must obey God by rejecting God-fatherism and ethnicity because the Bible says there is neither Jew nor gentile, there's neither slave nor master; we are all one and equal before God.
"So, I say to you children of God, as our nation comes of age, the destiny of our nation lies in our hands, lies in the hands of those of us who are called by His name. Somehow God has redesigned the redemption of nations around the sacrifices of the saints."
In his remarks, Gov. Ambode, said: "Looking back, the Almighty God has been good to us as a nation. Nothing can be better than to reciprocate His kind gestures and favours with thanksgiving to glorify His name for the goodness and mercies over the past 58 years as a sovereign nation.
"As we celebrate, I want us to hold steadfast and continue to uphold all those our past heroes who sacrificed to liberate the nation from the clutches of colonialism. Let me use this opportunity to commend all the men of God in this country and urge them not to be tired of their intervention and restoration of hope to our nation and our future."
In his message titled: 'Becoming a man God uses beyond his generation', Pastor Kumuyi urged all Nigerians to yield themselves for divine usage because "God still uses yielded men and women to execute His divine mandate in every family, in every institution, in every industry, in every field, everywhere."
Kummuyi said: "You can be that man or women where you are. You can make a difference for good, a change agent for the better, a reformer."
Source: https://www.vanguardngr.com/2018/10/osinbajo-ambode-kumuyi-urge-nigerians-to-shun-corruption-ethnic-bigotry/