THE Federal Government must hasten and wade into the ordeals of Nigerian traders doing business in Ghana. It requires serious, intensive engagement, else the issue might boil over into xenophobic attacks, which will seriously threaten the cordial relationship between Nigeria and Ghana.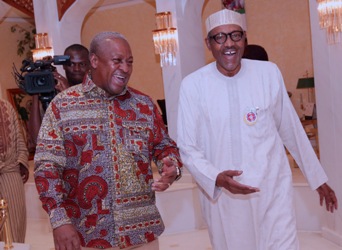 Following the closure of more than 400 shops by the authorities in the Ashanti Region of Ghana, some members of the Nigerian Union of Traders Associations (NUTA), Ghana, led by its President, Mr. Chukwuemeka Nnaji, recently staged a protest at the headquarters of the Economic Community of West African States, ECOWAS, Abuja, demanding that Ghana should respect the treaty on free trade and movement of persons in the sub-region and reopen their businesses.
However, over the past weekend, the Deputy President of the Senate, Ike Ekweremadu (who is a former Speaker of the ECOWAS Parliament) announced that the Ghanaian authorities have agreed to reopen the shops after his meeting with the Ashanti Regional Minister, Mr Simon Osei-Mensah. Earlier, President Muhammadu Buhari had met with his Ghanaian counterpart, President Nana Akufo-Addo, at the recent United Nations summit in New York. They reportedly discussed the development, with assurances given that the law does not target Nigerians and nationals of ECOWAS member-countries.
The diplomatic efforts and assurances notwithstanding, there is cause to worry that the worst may still lie ahead. In 1994, the government of Ghana enacted a law which provides that only capital-intensive foreign businesses with the minimum $300,000 (over N10 million) capital outlay capable of employing at least 10 Ghanaians would be allowed to open shop or stay in business.
More than 20 years after its enactment, Ghanaian indigenous petty traders have become impatient and are putting great pressure on their government to implement the law. According to the Chairman of the Greater Accra chapter of the Ghana Union of Traders' Associations (GUTA), Mr Kwadwo Amoateng, Ghanaians want the shops of foreign petty traders shut. The tension is growing. In June this year, non-Ghanaian petty traders got a notice to quit the markets. The closure of the 400 businesses did not come as a surprise.
We call on the governments of both countries to intensify efforts and clarify how the law affects ECOWAS citizens resident in Ghana and explain it to the clear understanding of all. If this is not done, some aggrieved groups could take the law into their hands and launch xenophobic attacks on foreign nationals, especially Nigerians, in Ghana as has been the case in South Africa.
The consequences of this for both countries are better imagined than experienced. Ghanaians are still sore at the expulsion of their nationals illegally resident in Nigeria in 1983 (the much-tooted  "Ghana-Must-Go" episode). The interests and well-being of Nigerians in Ghana must be protected.
Source: https://www.vanguardngr.com/2018/10/ordeals-of-nigerians-in-ghana/