By Olayinka Latona
AS Nigeria celebrates her 58th independence anniversary, General Overseer of Redeemed Christian Church of God, RCCG, Pastor Enoch Adejare Adeboye on Sunday observed that Nigeria is a paradise compared to some other nations of the world.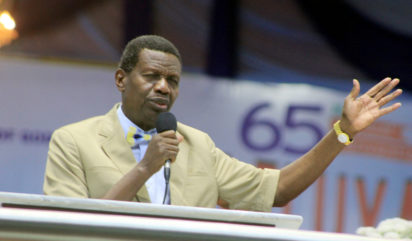 Speaking during a special prayer for Nigeria organised by the national headquarters of RCCG, Throne of Grace Parish in Ebute-Meta, Lagos, Pastor Adeboye said most of the nation's challenges were man-made, praying God's intervention in tackling the myriad of challenges confronting the nation.
Daddy G.O., who argued that many Nigerians are not aware of the tremendous blessings of God they are enjoying in the country, he made a comparison between Nigeria and so many other nations of the world and said that Nigeria is a paradise.
According to him, in so many countries he has visited citizens are so challenged that they sleep in graveyards and mingle with the dead freely, noting that the worst case scenario in Nigeria is that people sleep under the bridge.
"At least our case has not become so bad that we now have to sleep in the graveyard," stressing that Nigeria has every reason to thank God, warning that instead of murmuring about the nation's challenges, Nigerians should diligently seek God's face in prayer, forsake evil ways and the Lord will heal and restore the nation's glory.
In his words: "No human can solve our challenges in Nigeria, we need divine intervention and If we truly humble ourselves, turn from our wicked ways and pray, God will answer our prayers. If we refuse to forsake our evil ways and just pray,God will not answer.
"It is important that we seek God's mercy because we manufacture most of our own problems, if there is an armed robber, one parent gave birth to such a robber who failed in their responsibility. We need God's forgiveness and mercy in Nigeria for us to experience glorious turn around."
The revered man of God also prayed against those fermenting troubles and crisis in the nation: "every trouble maker in Nigeria, God please neutralise them. Every siege on our nation, Lord lift them and Almighty God send revival to us in Nigeria for our sufferings to end" he said.
Source: https://www.vanguardngr.com/2018/10/no-human-can-solve-our-challenges-in-nigeria-adeboye/