By Ifeanyi Okolie
The Inspector General of Police, Ibrahim Idris, has urged the Chairman of the Police Service Commission, PSC, Musiliu Smith, to abide by the order of the Federal High Court, Abuja, restraining the Commission from demoting officers promoted for their performance in combating crime.
The officers promoted included those that arrested notorious kidnap suspects, Evans, in Lagos, and Vampire in Owerri, Imo State.
Six police officers among the 1,000 promoted by the Police Service Commission following recommendations by the Inspector General of Police between 2016 and 2018, had filed a motion ex parte before the Federal High Court, Abuja, stopping PSC from demoting them and the others.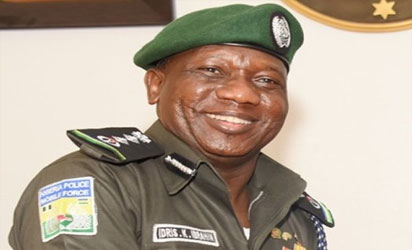 They claimed that their promotions were in compliance with all the requirements of the law for officers to be promoted for superlative performance.
Justice Abdu-Kafarati, who presided over the matter, restrained PSC, who are defendants in the suit, their agents and servants from demoting the plaintiffs and several other Police officers duly promoted by the Inspector General.
IG's letter
Meanwhile, the Police boss, Idris, in a letter on October 4, while reacting to the court order, noted that the principles guiding promotions and assessments of officers, which was clearly spelt out in Section 149 of the Police Act and Regulations, were followed before the officers were promoted.
He added that the Police Act stated that "promotions of officers from different ranks on general duties shall be made subject to the fitness of the individual.
"This includes physical fitness, knowledge of the duties of the appointment, general capacity, training, experience and the capacity to control, direct and superintendent over subordinates.
"This has been a long-standing practice in the Force as previous Inspectors-General of Police recommended their gallant officers for promotions. One can only wonder why only those promoted between 2016 and 2018 are targets.
"I am worried about the ripple effect in the security architecture of the country if the Commission goes ahead to demote over 1,000 police officers, who have been decorated and occupying their duty posts and are making very great achievements in the fight against crime.
"This will affect the cardinal objective of Mr. President, which is security in Nigeria."
Source: https://www.vanguardngr.com/2018/10/ig-asks-psc-to-obey-court-order-on-demotion-of-1000-policemen/